Often problems arise in Near Match reports because the cited work in an authority record does not exactly match the work we hold in our collection. There are ways to solve these problems. Below is a list of things to try in resolving near match problems.
Is the subject area of work cited in the authority record the same as the work in our catalog? If so, follow the steps below to verify that they are truly the same person.
Search for the OCLC record for the title we hold. The OCLC number is in the 001 field in our bib record.
NOTE: An OCLC number search must begin with the # sign.

If the OCLC number is not in our bib record, try an author/title search by:
doing a 4,4 search
doing an author and title keyboard search in the large Search WorldCat window.
If the new form of name is already in the OCLC record and it is the same as the one on the Near Match report, you can safely load the name authority record if it's not in our catalog and change the bib(s) we have or change our bib(s) to match an existing name authority record.
If the name has not been changed in the OCLC record, you can search by title in OCLC for the work we have to see if other records for that title have the new form of name.
If you find another bib record for the same work that we have (same title in a new edition, perhaps) and it has a new form of name controlled with an authority record, you can safely assume that they are the same person and proceed with the regular Near Match process of checking for the authority record/making changes to the bib.
Search the LC Name Authority File in OCLC (Authorities→Search→LC Names and Subjects) for the name in our catalog to see if there are any other possibilities for names.

If not of these strategies yield a resolution, don't go any further. It's entirely possible that our vendor has given us a bad match. When in doubt, don't load the record or change the heading in our bib(s).
Here is an example of a record that is not a match… We are looking for a match to Chatterton, B.D. E.
Here is our match…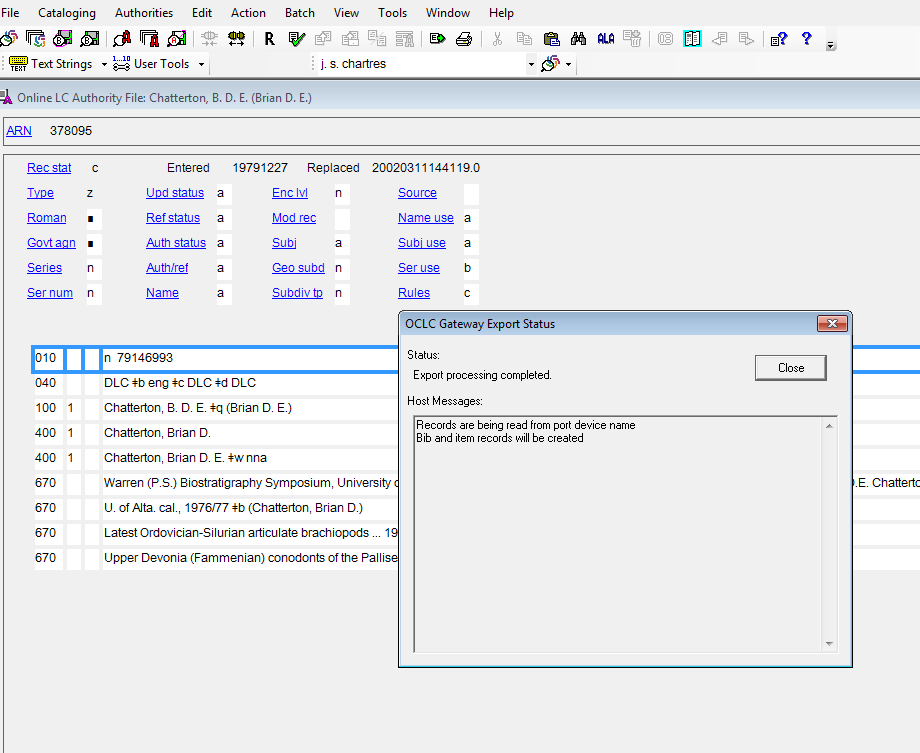 Upon loading the new authority record, this is what you should see…