---
Courier Schedule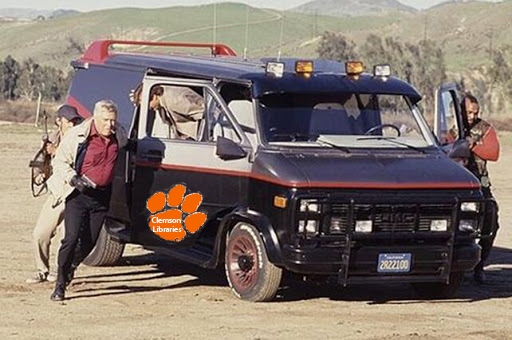 The courier is back up and running between Cooper Library and the Depot. We are going every Tuesday and Thursday between 11 and 1. If there is a special need to transport items on another day, please email Tabitha Wright at tabithw@nullclemson.edu, and we will be happy to crank up the van! Deliveries to EMC and Gunnin are happening on an as-needed basis with the help of Cierra. We are also currently working on a StaffWeb page with all of this information.
–Renna Redd
---
I&RS Leganto Training

I&RS will be moving forward with using our new Leganto platform to create virtual displays for the next little while. Since Leganto is a new platform, we've got three trainings set up to demonstrate the process and answer any questions you have. The trainings will be offered:
Friday, September 11, 2020, 11am, https://clemson.zoom.us/j/94773483709
• Tuesday, September 15, 2020, 2pm, https://clemson.zoom.us/j/93249015717
• Monday, September 21, 2020, 10am, https://clemson.zoom.us/j/98629239787
If you would like me to forward a calendar invite for a training session to you, just let me know!
The trainings will all be the same, and we will record one of them to send out to everyone. I'm also happy to meet with folks one-on-one to answer questions or provide a demo.
–Maggie Albro
---
Coordinator's Corner
Have you ever sent an email and wished that you could grab it back? Did you send it to the wrong person, forget to attach a document, said something you wish you could take back? Keep that from ever happening again with this special trick.
There is a Message Recall feature though it's not very reliable because we all receive email on our cell phones these days so once a message has been sent, it's almost immediately delivered and can't be pulled back.
Thankfully, there's a good workaround that will save you! Use a 1-minute delay on all outgoing emails.
Here's how:
Open Outlook – Choose File – Manage Rules and Alerts – New Rule – Start from a Blank Rule – Apply rule on all messages that I send – Press Next, Press Next again, Answer Yes (that the rule will be applied on every message that you send) , put a check in the box on Defer delivery by a number of minutes, look down at Step 2 and click on "a number of minutes" and input the number of minutes that you want to delay the sending of your email. I use 1 minute. Press Next, then Press Next again. Name your rule for instance, Email Delay, Then press Finish, Then press Okay.
Let me know when this rule has helped you!
–Kellie Marlatt
---
Let the Cat Out of the Bag