Reflection Room Now Open in Cooper Library
The Reflection Room in Cooper Library is now open in 214, which is located in the silent area of the second floor. A big thanks to Teri, Robin, Tab, and Sam in helping to get this room ready! Please encourage students to use and visit the space, as well as fill out the feedback form that will be located within the room. The room will have card swipe access and wayfinding signs in the near future.
–Jessica Kohout-Tailor
---
PD Form, Admin Funding Request Form, and FBIS Training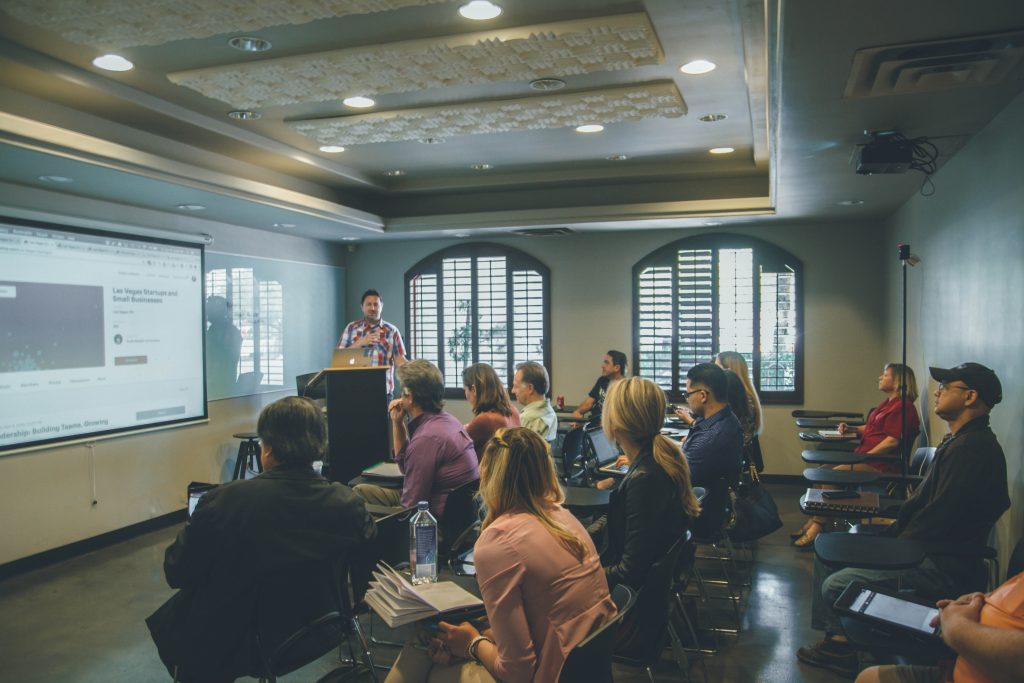 All,
We have a few new tools available for use now that I want to ensure everyone has the opportunity to learn about. These include the new Professional Development Request Form that went live on StaffWeb last fall, a new Admin Funding Request Form that will be going live soon, and the updated version of Clemson's Faculty Business Information System (FBIS). Don't let the name of FBIS fool you though as it is for staff as well as faculty. This system is where you can check the balances of your faculty PD funds, departmental student worker and supply accounts, grants, and any other Fund 10-20 projects you have. It shows you the budget, each detailed expenditure, and balances of these projects.
Training classes are scheduled for Thursday, March 12th to go over these items, so please be sure to attend if you can. Kellie has emailed invitations for all four meetings, but you only need to attend one session of each meeting. Also, you only need to attend both meetings if they are applicable to your work responsibilities. Each class is being offered twice as a convenience.
Bhavin Tailor will be leading us through how to use the PD and Admin Funding Request Forms in the Brown Room of Cooper Library 10:00-11:00AM and in the large conference room (Room 101) at the Library Depot 2:00-3:00PM on March 12th.
Jade Wimpey will be leading us through how to use FBIS in the Brown Room of Cooper Library 11:00-11:30AM and in the large conference room (Room 101) at the Library Depot 3:00-3:30PM on March 12th.
I look forward to seeing you all there.
–Karen Littleton
---
REMINDER: Come Learn About Metadata Creation this Wednesday!
Come learn from the Metadata and Monographic Resources Team about how we describe our largest digital collection of historical images: Clemson University Historical Images, https://digitalcollections.clemson.edu/explore/collections/ua100/.
When: March 11, 3:00-4:00
Where: Brown Room
This practical presentation will focus on what the team has learned from this ongoing project thus far. This includes developing workflows and strategies for describing images, creating and using a controlled vocabulary of local headings, and leveraging expertise across the libraries to streamline metadata creation. The team will walk through the metadata management tool CollectiveAccess, share image examples from the collection, and discuss the benefits of metadata documentation. The team will conclude with challenges we still face, such as selecting appropriate subject headings, managing entities, and describing images with little to no information.
This is a preview of the presentation the team will give at the Voices of the Upstate Mini-Conference on March 14 titled "Got Metadata in Your Future? The Clemson University Libraries' Recent Experience." Check out the conference here: https://uscupstate.libguides.com/VoicesoftheUpstate
—Jessica Serrao
---
Congratulations, Kelley!

Please join us in congratulating Kelley Gillis who has been working as a student assistant with Clemson University Press. She will be graduating in May.  We wish her well in her future endeavors!
–John Morgenstern and Alison Mero
---
Menstrual Product Donation Drive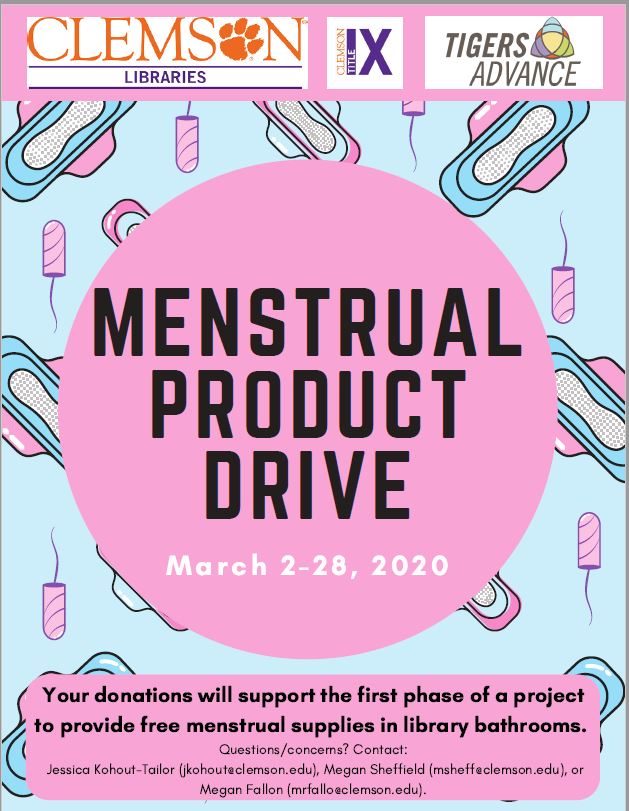 Clemson Libraries is partnering with Office of Access and Equity, Title IX to collect menstrual products to put in the restrooms at Cooper Library. This is a collaborative research project with the Tigers Advance Trailblazers 2019 Cohort. Our ultimate goal is to offer such products for free in Cooper bathrooms, and the donations we receive will be used for a pilot so we can determine quantities and investigate suppliers, funding, partners on campus, workflows for restocking, etc. Bins are located in the Cooper Library lobby and in the mailroom on the 3rd floor. Items will be collected through the month of March. For questions or more information, please contact Megan Fallon at mrfallo@nullclemson.edu, Jessica Kohout-Tailor at jkohout@nullclemson.edu, or Megan Sheffield at msheff@nullclemson.edu.
Thanks for your support!
–Megan Sheffield
---
Call for volunteers!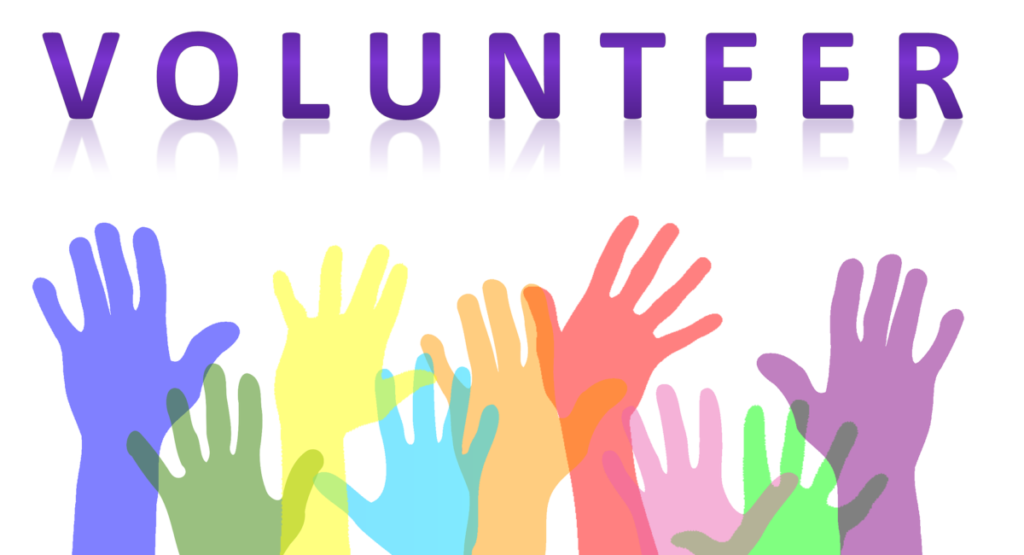 The Organizational Development Committee will be planning some upcoming projects and we'd love volunteers to help us out! We're looking to form 2 subcommittees:
Summer Workshop Series Planning Subcommittee – This group would handle this year's Summer Workshop Series, including logistics of the sessions, assessments, and recruiting speakers/topics. The ODC has already done some of the groundwork for this year in addition to all of Maggie Mason Smith's work last year, but we need 2-3 additional helpers!
Library Blog Planning Subcommittee – This group will draft guidelines and policies for a new library communication channel, and may also serve as the test group for a pilot of the blog before we roll it out library-wide. We'd like 1-2 people for this, and we will prioritize making sure this group represents as many units as possible.
Both of these groups will have time-limited memberships and will most likely be done with their work by the end of summer. We welcome faculty or staff volunteers.
Email me directly if you have any questions or would like to volunteer. Thanks!
–Megan Sheffield
---