Recognize Your Colleagues!
Who do you know who took the meaning of "Other Duties as Assigned" to the next level? Who has gone above and beyond during that last year? Who would you like to recognize for their hard work at Employee Appreciation Day? Any library employee (non-student) can nominate someone (or more than one) for the award. Any staff member who has been employed at the library since January 2018 is eligible.
Click the link for the nomination form: http://library.clemson.edu/depts/admin/human-resources/employee-recognition/2018-employee-of-the-year-nominations/
Please submit your nomination(s) by Friday, March 15. The winner will be announced during our Library Employee Recognition Day in May.
Please ask any of the EOTY Committee (Wade Culler, Lili Klar, or Renna Redd) if you have questions. Thank you for showing our staff members that they're appreciated!
—Renna Redd
---
Welcome Karen!
Please join me in welcoming Karen Littleton as the Libraries' new Business Officer.  In this role,  Karen will plan, direct, and coordinate complex Budget Center financial operations for Clemson University Libraries. Karen comes to us from the College of Education here at Clemson University where she worked as Business Center and Grants Manager. Karen brings with her a wealth of experience, working for various colleges across campus in a Clemson career that spans 8 years, along with serving as an Accounting Technician for the City of Greenville for 7 years prior to that.  Karen's start date will be Monday, March 11, 2019 and her email is kkelle2@nullclemson.edu.  Please join me in welcoming Karen to the Clemson Libraries' family.
–Chris Cox
---
Traveling Hacks in Cooper Library
Join us in the East Learning Commons of Cooper Library on 3/11 from 11:15-11:40 AM to learn some travel hacks with Clemson Abroad. Drop by for some tips and resources on packing, flying, helpful apps/websites, and making/keeping connections abroad. This is an informal, drop-in presentation, so simply stop by for some hacks and snacks!
—Jessica Kohout-Tailor
---
March is Women's Celebration Month
The President's Commission on Women is sponsoring several events during the month of March, including Comedian Leanne Morgan, speaker KaeLyn Rich, forums for staff and faculty, and many other opportunities! To see the full list of events, please visit https://docs.google.com/document/d/175Y9HW-eLS50GEww1aW7vfF_O5mzn38Cm8n18N2jRkc/edit
—Robin Chambers
---
Journal Club 3/15
The next meeting of the Libraries Journal Club will be held Friday, March 15, from 10-11AM in Cooper 309. This informal group is open to any interested student workers, staff, or faculty that would like to discuss current library trends. "Membership" in the group is completely voluntary; you can come to any meeting whether or not you've been to any previous meetings, just make sure the read the article first.
Ed Rock chose this week's article, which is:
Brenton Stewart, Boryung Ju, and Kaetrena Davis Kendrick, "Racial Climate and Inclusiveness in Academic Libraries: Perceptions of Welcomeness among Black College Students," The Library Quarterly 89, no. 1 (January 2019): 16-33.
https://doi.org/10.1086/700661
Feel free to share this with other library folks. Ed is bringing some treats that day, so be sure to grab a coffee on your way in. I'll see you there!
—Jenessa McElfresh
---
Teacher Forum: Active Learning Techniques
Please join us for the next Teacher Forum on active and inclusive learning.
March 26th at 1pm in 103
Learning Outcome 1: Participants will share strategies and tools from the literature and personal experience in order to reflect on how to improve their teaching practices.
Learning Outcome 2: Participants will learn how to reflect on their teaching in order to be more self-aware and mindful of their teaching practices.
Participants will need to bring with them an article that discusses the use of tools or techniques in active learning preferably in the realm of information literacy. Be prepared to talk about what you as a teacher would feel comfortable doing or not doing as described in the article.
—Anne Grant
---
We Want To Recognize You
We're looking for information about YOU for Employee Recognition Day. The information will run on a screen during the event and be preserved online in a special issue of Library Announcements. Please submit any awards or recognitions you received since the last Employee Recognition Day in May 2018. This includes information from 2019. These can include being selected for a University or professional committee, recognition by a professional association, grants awarded, publications or conference presentations, etc. Anything related to your work for Clemson University Libraries.
OR if you know of a colleague or team member who has an award or achievement from 2018 that should be recognized please send that information (with their permission).
Submit to Sue Hiott hiotts@nullclemson.edu as soon as possible but before April 1st.
—Employee Recognition Committee
---
Gunnin Architecture Library Open House March 19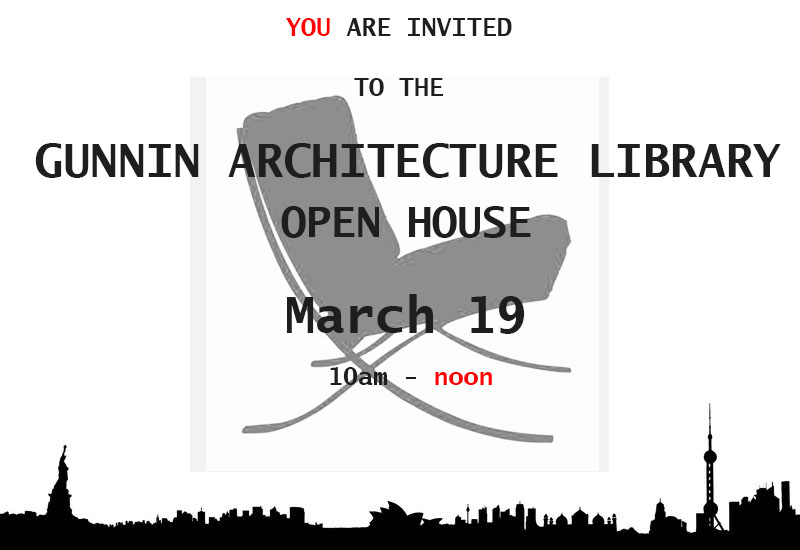 –Christopher Chapman
---
Last Call for Tri-County Technical College Library Learning Commons Tour 
If you need transportation to Tri-County Technical College from Cooper Library for the Learning Commons Library tour, please let Kellie Marlatt know today. Because we've had folks willing to carpool, the intention is to cancel the van rental. This is your last opportunity to ensure there is space for you before the van reservation is cancelled.
Enjoy the tour!
—Kellie Marlatt
---
Voting Next Week: Chris Cox for Councilor on ACRL Board
Voting opens next week in ALA and its divisions like ACRL in the annual election of officers and committee members. As you know, Chris Cox is running for a seat on the ACRL Board as a Councilor. Recently, ACRL has been featuring the Board candidates in interview-style profiles, thought you may like to see the one on Chris: https://www.acrl.ala.org/acrlinsider/archives/17356 .
Let's wish the candidate the best of luck and if you are an ACRL member, remember to vote!
–Ed Rock (on behalf of the ACRL Membership Committe)
---
March Birthdays!
Happy Birthday and Happy Belated Birthday to:
Richard Kyle       3/3
Jessica Scott       3/6
Russell Terry      3/8
Nicholas Baldwin 3/9
Sarah Branham 3/10
Kellie Marlatt 3/14
Lili Klar  3/20
Josh Morgan 3/31
—Kellie Marlatt
---