March Birthdays!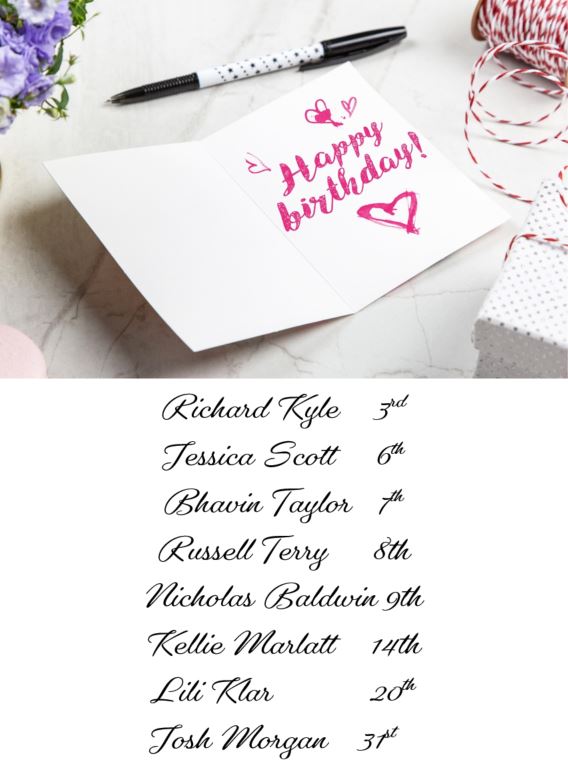 ---
Come Learn About Metadata Creation!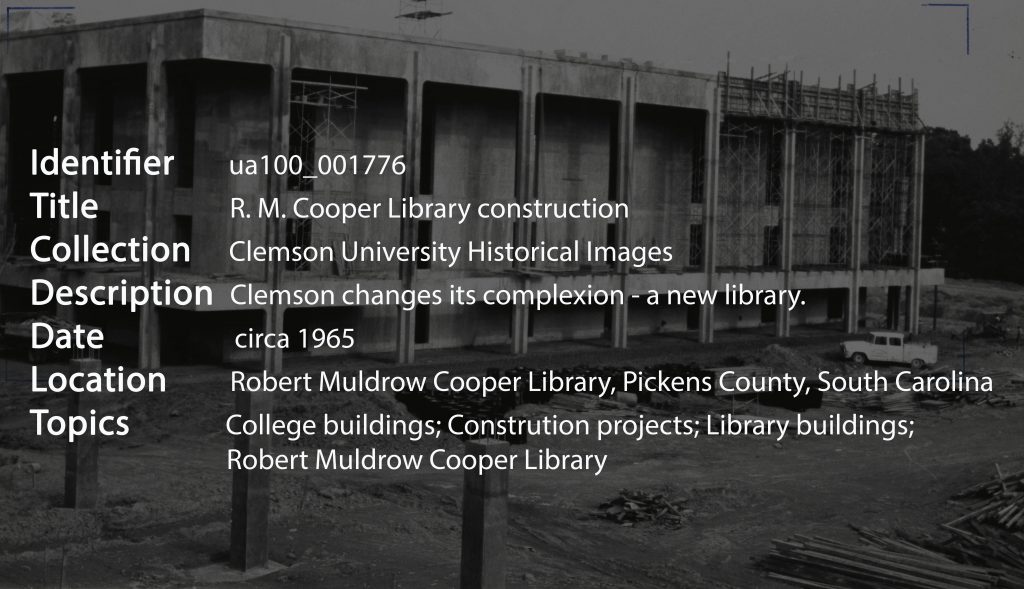 Come learn from the Metadata and Monographic Resources Team about how we describe our largest digital collection of historical images: Clemson University Historical Images, https://digitalcollections.clemson.edu/explore/collections/ua100/.
When: March 11, 3:00-4:00
Where: Brown Room
This practical presentation will focus on what the team has learned from this ongoing project thus far. This includes developing workflows and strategies for describing images, creating and using a controlled vocabulary of local headings, and leveraging expertise across the libraries to streamline metadata creation. The team will walk through the metadata management tool CollectiveAccess, share image examples from the collection, and discuss the benefits of metadata documentation. The team will conclude with challenges we still face, such as selecting appropriate subject headings, managing entities, and describing images with little to no information.
This is a preview of the presentation the team will give at the Voices of the Upstate Mini-Conference on March 14 titled "Got Metadata in Your Future? The Clemson University Libraries' Recent Experience." Check out the conference here: https://uscupstate.libguides.com/VoicesoftheUpstate
–Jessica Serrao
---
Did You Know?
---
Graduating Seniors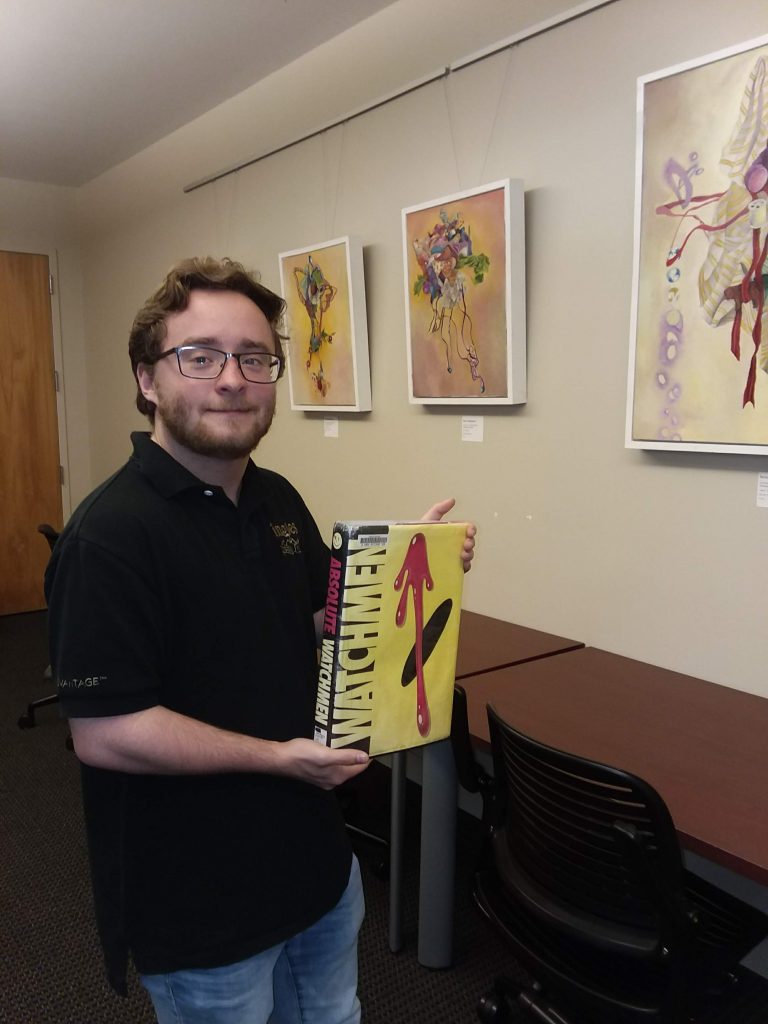 The Gunnin Library would like to congratulate Gabe Thorpe in his upcoming completion of Bachelor of Arts in Communications .Gabe has been an integral part of the Gunnin Team and we wish him well in his future endeavors!
The Gunnin would also like to congratulate Anna Keistler in her upcoming completion of Bachelor of Arts in Elementary Education . Anna plans to continue on with a Master's Degree and then teach at the elementary school level. ( although she has mentioned a career in the legislature to help make a positive difference for the public school system in SC!) We know that she will be a fantastic teacher and we wish her well. Anna you have our VOTE!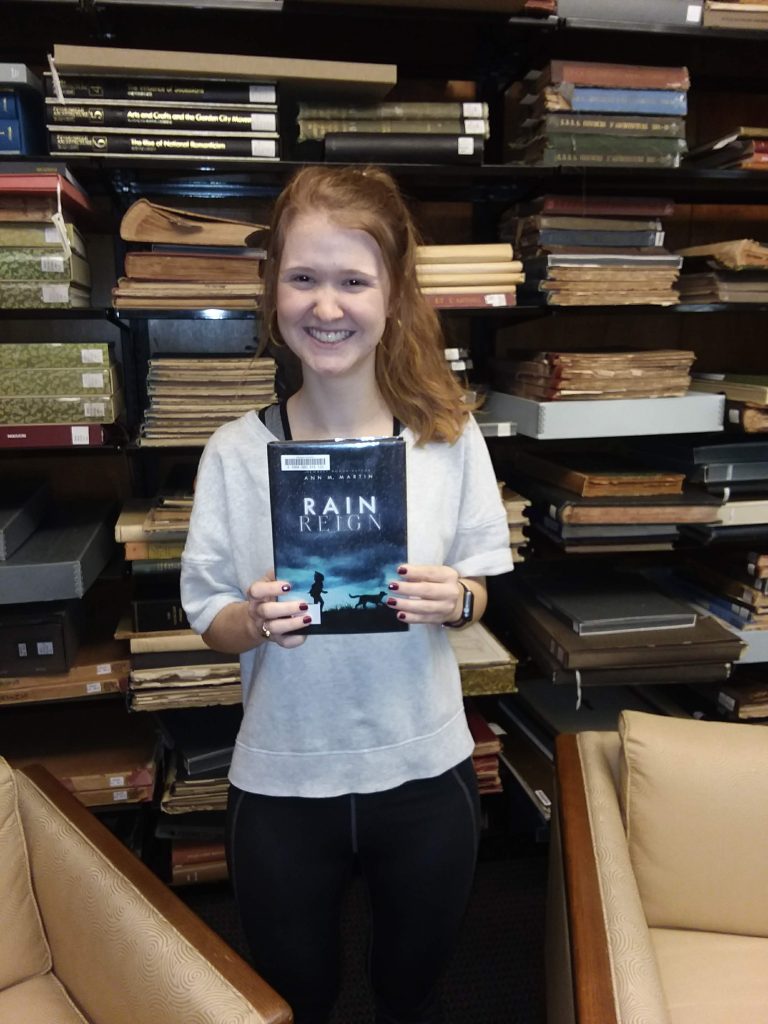 –Paula Smith
---
ADSW: Intro to Podcasting 3/3 at 3pm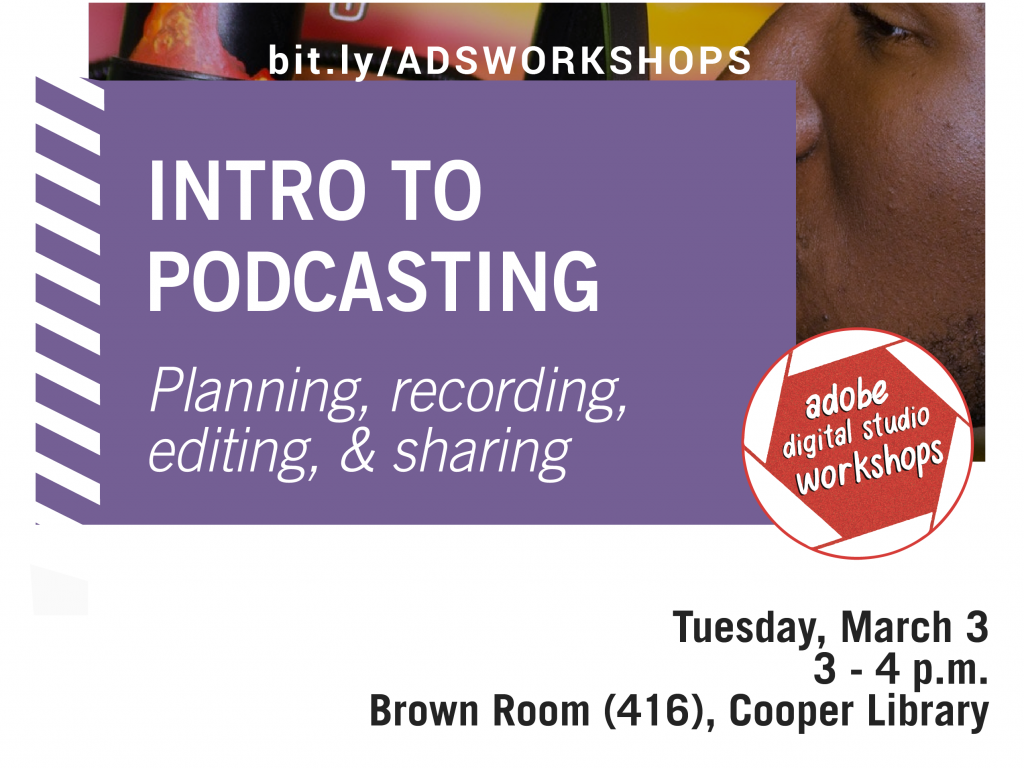 Intro to Podcasting: March 3, 3 – 4 p.m., Brown Room (416) in Cooper Library.
Learn how to start your own podcast using best practices for recording and editing. Bring a laptop with Adobe Audition installed to follow along. For more information, go to bit.ly/adsworkshops. For accessibility or questions, contact Kelsey Sheaffer at ksheaff@nullclemson.edu
–Kelsey Sheaffer
---
Rape Aggression Defense Program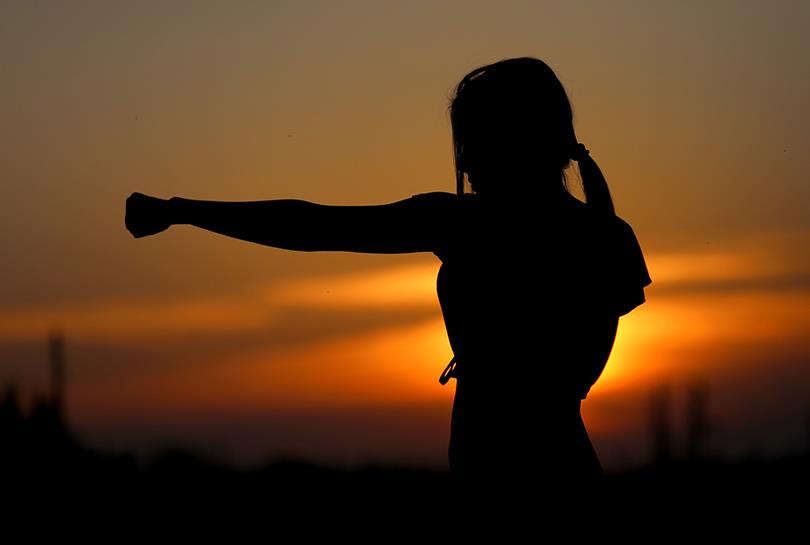 Get ready for R.A.D. training in March!
Open to all women on Monday March 16 (spring break) from 5-7 pm in the Brown Room. The Rape Aggression Defense program is presented to us free of cost by Clemson University Police Department. This is a great opportunity to learn valuable self-defense techniques and have a good time doing it!
The time is paid, provided you make prior arrangements with your supervisor to flex the hours if appropriate.
Please call (864) 656-1434 or email (rblurto@nullclemson.edu) Rhonda to sign up by March 9.
Hope to see you there!
–Rhonda Blurton
---
Call for volunteers!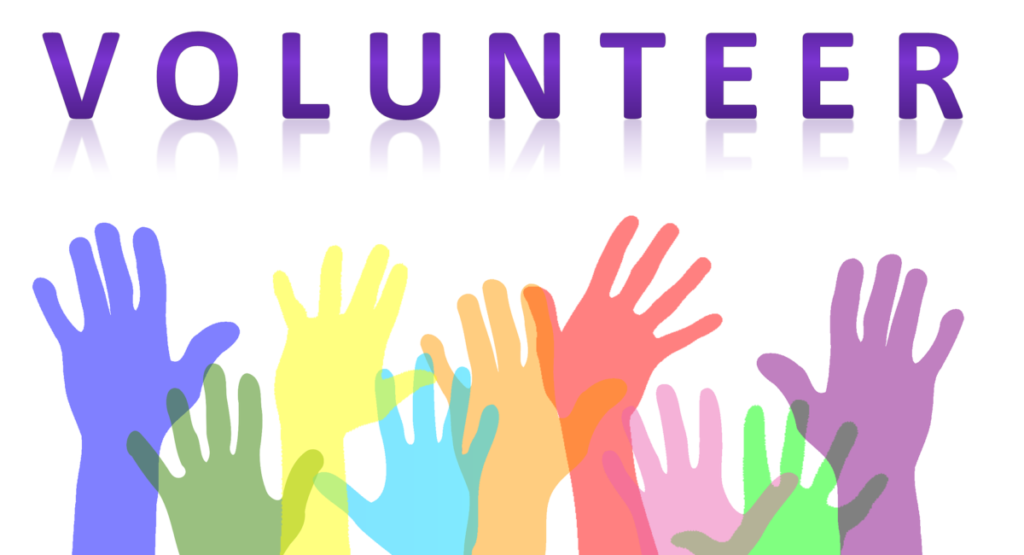 The Organizational Development Committee will be planning some upcoming projects and we'd love volunteers to help us out! We're looking to form 2 subcommittees:
Summer Workshop Series Planning Subcommittee – This group would handle this year's Summer Workshop Series, including logistics of the sessions, assessments, and recruiting speakers/topics. The ODC has already done some of the groundwork for this year in addition to all of Maggie Mason Smith's work last year, but we need 2-3 additional helpers!
Library Blog Planning Subcommittee – This group will draft guidelines and policies for a new library communication channel, and may also serve as the test group for a pilot of the blog before we roll it out library-wide. We'd like 1-2 people for this, and we will prioritize making sure this group represents as many units as possible.
Both of these groups will have time-limited memberships and will most likely be done with their work by the end of summer. We welcome faculty or staff volunteers.
Email me directly if you have any questions or would like to volunteer. Thanks!
–Megan Sheffiled
---
Journal Club Tomorrow!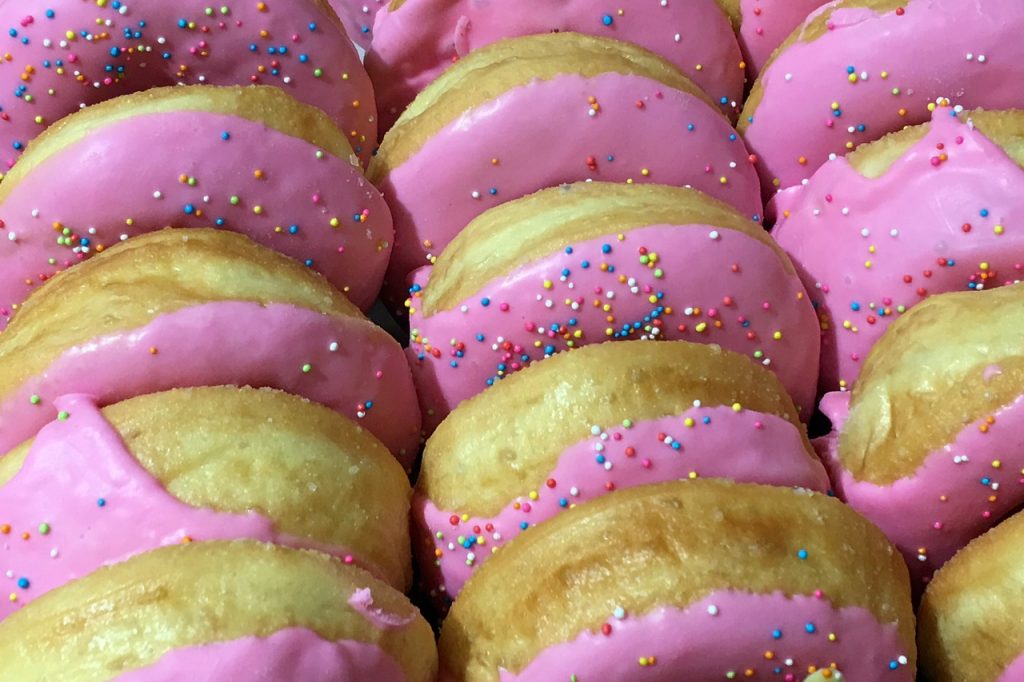 The next meeting will be held on Tuesday, March 3rd, from 1-2 PM in the Brown Room. This informal group is open to any interested student workers, staff, or faculty that would like to discuss current library trends. "Membership" in the group is completely voluntary; you can come to any meeting whether or not you've been to any previous meetings, just make sure to read the article first. There will almost always be snacks involved – this time there will be donuts!
Gordon Cochrane is our host this week, and he's chosen the following article:
Miyakawa, T. (2020). No raw data, no science: another possible source of the reproducibility crisis.
https://molecularbrain.biomedcentral.com/articles/10.1186/s13041-020-0552-2
Feel free to share this with other library folks. I'll see you there!
Got an article you want to talk about? Sign up to host Journal Club! https://docs.google.com/document/d/1D8vj7yV7DzGQOskYATCcuVFdFICER6SOsPykp870wo0/edit
–Megan Sheffield
---
Reminder: Ordering Freeze
Materials selectors are to have all orders in by the end of business today. These items will need to go through the ordering/receipt/cataloging/processing process before the technical services freeze (meaning little to no work on cataloging and acquisitions) starts on April 1.
Thanks for your patience and understanding during this part of the transition to a new library management system
–Sarah Greene
---
Coordinator's Corner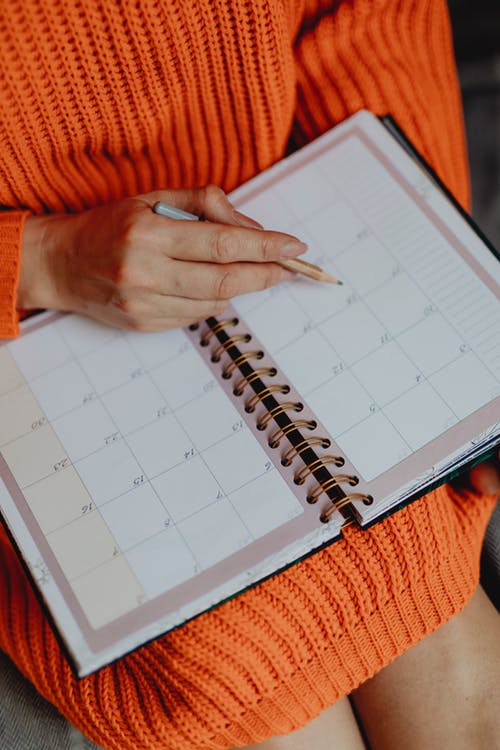 As always, there's lots of activity in the Dean's Office this month!
I'll be attending PA³HENA https://www.pa3hena.org/on March 14th in San Diego with several of my peers from Clemson and all across the country. PA³HENA is The Provost and Academic Affairs Assistants in Higher Education, National Association and is the first professional development and national networking opportunity specifically for academic affairs administrators who support Chief Academic Officers from all categories of accredited higher education institutions. PA³HENA's mission is to provide opportunities for senior academic affairs executive team support to network, share resources and educate one another regarding best practices in higher education.
Dean Cox will be hosting a Deans' Breakfast on March 12th will all the Clemson deans and he is also hosting a Dean's Dinner on Saturday, March 28th here in Cooper Library for Libraries' donors who have given at a high level over the past couple of years. The dinner is in tandem with his work to establish a Libraries Advocacy Board to promote interest in and funding for the Libraries. He will be taking the Libraries Advocacy Board to the Depot this week on the 4th for a tour of the facility.
Elaina Norlin, Professional Development/DEI Coordinator, Association of Southeastern Research Libraries (ASERL) Robert W. Woodruff Library, will be visiting Cooper Library and has several meetings scheduled throughout the day. All Libraries' employees are invited to drop by for coffee and pastry with Elaina at 9am on the 11th in the Byrnes Room.
We're gearing up for a Student Worker Appreciation Reception on April 6th in the Barnes Center! This is a great opportunity to celebrate our student workers and thank them for their immense contributions to the Libraries. We're looking forward to hosting the event in the Barnes Center. We hope everyone will be able to attend or drop by as your schedules permit. We hope for a strong turnout so that our students feel the love!
Dean Cox will be traveling to Charleston on March 13th to visit Ina Bootle at the Clemson Design Center and he'll also tour The Zucker Graduate Education Center and CURI and meet with donors while in Charleston. He wraps up the month with travel to San Diego for the CNI Conference.
Finally, we are also gearing up for the Employee of the Year/Employee Recognition Day Reception that will be in May. The kickoff meeting for the Planning Group will be at 3:00pm on March 11th at the Depot. Feel free to join if you haven't already signed up to help plan the annual event to honor all employees.
A big thank you to all who joined us for the Cooper Circus Administrative Offices Open House a couple of weeks ago. Lots of shenanigans ensued and it was a fun way to come together to share what we do in our respective areas. Please reach out to me if your area hasn't had an Open House yet and would like to schedule one.
–Kellie Marlatt
---
Got something to share besides germs?