Open Enrollment Has Been Extended to November 15, 2016 Due to Hurricane Matthew
Open enrollment is an annual opportunity to assess your state insurance options, review dependent enrollment, and plan ahead for anticipated needs. It's important for you to review and understand all plan changes and take advantage of the resources and tools available to you.
Open enrollment is held annually from October 1 to October 31, with elections becoming effective January 1 of the following year.
The Office of Human Resources (OHR) is here to provide all insurance-eligible employees with the education and resources needed to make informed decisions regarding their and their family's insurance coverage.
— Kristy Snider
---
Congratulations, Josh & Rachel
Kudos to Josh Morgan and Rachel Wittmann for their presentation earlier this week at the Digital Library Federation Forum in Milwaukee, Wisconsin!
Titled "A Digital Celebration of the National Park Service Centennial," Rachel and Josh discussed the Open Parks Network and shared "campfire stories on lessons learned from a rocky trail, which will help other institutions steer clear of hidden obstacles and persevere through tough projects." Rachel and Josh received free registration to attend the DLF Forum this year because of last year's award-winning poster, "Find Your Park Metadata."
— Chris Vinson
---
Volunteers at Clemson Libraries

All inquiries of volunteering at Clemson Libraries must be routed to me first (Kristy Snider, HR Partner) so that potential opportunities may be identified and that the appropriate Library individuals are contacted before any assurances are made to requestors.
Clemson Libraries is able to work with volunteers from the student body as well as the community depending on availability of time and resources. Often we are able to accommodate Clemson students associated with campus-related programs such as the PTI (Pre-Trial Intervention) Program. Occasionally we are able to work with outside volunteers.
It is my responsibility to screen the student requestors to ensure that they are connected to familiar programs in the local area. Those that are accepted as outside volunteers (anyone other than Clemson students) must complete a background check at their expense (typically $42). If you have any questions regarding volunteers, please let me know.
— Kristy Snider
---
Instruction Team Minutes Now on StaffWeb
The Instruction team is responsible for coordinating general library instruction programs to teach users how to locate, use, and think critically about information resources. The team also supports teaching and assessment for library instructors in order to assist them in documenting the relationship between library instruction and student success.

Team responsibilities include:
Planning, implementing, and assessing general instruction programs such library workshops and boot camps
Creating and assessing CU 1000 online tutorials
Supporting LibGuides & the creation of other instructional tools
Coordinating instruction-related professional development
Providing regular communication with the Public Information Coordinator to publicize instruction initiatives
Providing regular updates on instruction programs to I&RS and LLT
Team Members:
Anne Grant (Team Lead)
Provides leadership for general graduate library instruction programming and serves as the liaison representative for the humanities
Kirsten Dean
Provides leadership for general undergraduate library instruction programming
Diana Finkle
Actualizes ideas in print and digital formats and serves as a consultant on universal design
Jennifer Petersen
Serves as engagement liaison, gathers information from constituents about library instruction, and facilitates instruction-related events
Lili Klar
Coordinates logistics of Instruction Team
Nashieli Marcano
Provides instruction for graduate students and serves as liaison representative for the sciences
Starting with the October 27 meeting, Instruction Team meeting minutes will be posted within 24 (business) hours of approval by the team, generally with 2 business days of Instruction Team meetings. Thanks to WordPress, a running list of team minutes is available for you to bookmark.
— Anne Grant
---
November Researcher of the Month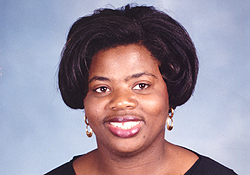 November is National Family Literacy Month and Clemson Libraries is proud to announce that Professor Jonda C. McNair, Ph.D. Language, Literacy and Culture, Clemson College of Education, has been nominated to be our November Researcher of the Month. Dr. McNair specializes in children's literature with a special focus on books written by and about African Americans. She received a grant to conduct a study and implement a family literacy project involving African American children's literature.
After graduating from high school in Macon, Georgia, Professor McNair attended the University of Florida where she earned degrees in elementary education. One of her professors, Dr. Linda Leonard Lamme, turned her on to children's books, introducing her to authors and illustrators like James E. Ransome, Eloise Greenfield and Floyd Cooper. Currently, one of her favorite illustrators is Kadir Nelson. After college she taught kindergarten, first and second grade for five years. She then moved on to pursue her doctoral degree in Language, Literacy and Culture at The Ohio State University. During graduate school she had the opportunity to work with Dr. Rudine Sims Bishop, a leading scholar of African American children's books. Dr. McNair states that both of these women have had a profound impact on her career and life.
Professor McNair is passionate about children's literacy which is apparent when walking into her office. Colorful children's books overflow from her bookshelves and are stacked in every nook and cranny. She has dedicated her career as an educator to literacy for young children. Dr. McNair states that it is very important for her to give equal value to all three aspects of a career in higher education; research, instruction and service.
Research
Dr. McNair received a grant from the Research Foundation of the National Council of Teachers of English (NCTE) to implement a family literacy project. It was during a conference where Professor McNair was showcasing children's books written by African American authors when she met an elementary teacher that exclaimed, "I never knew there were so many books about us!" This ultimately became the name of her study, "I Never Knew There Were So Many Books about Us: Parents and Children Reading African American Children's Literature Together." She conducted workshops for African American families–with children in grades K-2–where she modeled ways for parents to read aloud to their children and helped them respond to books via art, discussion and writing. Each family received more than 50 African American children's books. When the NCTE grant funding ran out she received funding to continue the program from the Anderson, SC chapter of Alpha Kappa Alpha Sorority, Inc. The family literacy program continues on as an annual event in August at the public library in Anderson, SC.
Instruction
Professor McNair encourages her education students to "read aloud every day to your students because reading out loud affords opportunities to teach children about the reading process and model behaviors such as fluency." She also advises her students to fill make sure that their classrooms are print rich where words are written on the classroom walls, books are everywhere and art and reading material are displayed visually for the children to absorb. Dr. McNair teaches her students how to critically evaluate literature and guides them on how to select high quality reading material. She sings the praises of the Clemson Libraries Education Media Center (EMC), the curriculum materials library supporting the College of Education faculty, students and staff, for generously ordering books and DVDs she requests for her courses and for the education and literature library databases such as Education Resources Information Center (ERIC) and the Children's Literature Comprehensive Database (CLDC). Dr. McNair wants to give Tara Weeks, the EMC Library Manager, a shout out. "I just love Tara! She is a real advocate and is always willing to help me order books and assist my students!"

Currently Professor McNair teaches the following courses here at Clemson University:
EDLT 4580 Early Literacy: From Birth to Kindergarten
EDLT 4590 Teaching Reading in the Early Grades, K-3
EDLT 4600 Teaching Reading in the Elementary Grades, 2-6
EDLT 4620 Reading and Responding to Literature for the Children in the Elementary Classroom
Service
Dr. McNair is also passionate about service to her field. She recently completed a three-year term as the chair of the Coretta Scott King Book Awards Committee, and serves as a coeditor of Language Arts, the Journal of the Elementary Section of NCTE. She is an active member of numerous professional organizations including NCTE, the American Library Association (ALA) and the International Literacy Association (ILA). Professor McNair also publishes a newsletter that she calls "a mini snap-shot or microcosm of what a classroom library should look like" titled Mirrors and Windows. She continues to conduct workshops for African American families and literacy as well.
References
Lamb, Wendy. Children's Book Council, 2014. Accessed 1 Nov. 2016. www.cbcdiversity.com/post/78009372746/a-conversation-with-jonda-c-mcnair-chair-of-the
— Jennifer Petersen
---
Send announcements to Micki Reid (eburket@

null

clemson.edu) by noon on Friday