International Festival Volunteers
Clemson University's 2019 International Festival is seeking volunteers to assist with various activities before, during, and after the festival. The festival will be on Sunday, April 7th, 2019 from 12pm-4pm on Bowman Field. Volunteer opportunities are in areas including: Set-up, Clean-up, Children's Area, Global Cuisine, Global Marketplace, Registration and Ticketing, Global Showcase, and Parking! We'd love to have you participate; volunteers are integral to making the International Festival a fun, engaging experience for all!
To sign up, fill out the Volunteer Form: https://goo.gl/forms/Q2dETEOGndCey2Mw1 If you have any questions, please contact Kim Carter at kec2@nullclemson.edu.
—Lili Klar
---
Journal Club 2/15

The next meeting of the Libraries Journal Club will be held Friday, February 15, from 10-11AM in Conference Room 101 at the Library Depot. This informal group is open to any interested student workers, staff, or faculty that would like to discuss current library trends. "Membership" in the group is completely voluntary; you can come to any meeting whether or not you've been to any previous meetings, just make sure the read the article first. There will be donuts, so bring your own coffee!
This week's host is Lisa Bodenheimer, who has selected the following article:
Oud, J. (2019) Systemic Workplace Barriers for Academic Librarians with Disabilities. College and Research Libraries, Preprint. https://crl.acrl.org/index.php/crl/article/view/16948
Feel free to share this with other library folks. I'll see you there!
—Jenessa McElfresh
---
Finding Your Ancestors with Ancestry

By request of members of CU's Black History Month organizing committee, and for the second consecutive year, the Clemson Libraries will host a drop-in workshop especially designed for individuals who want to explore their African American ancestry. It will take place Monday, February 18, from 3-7 pm in Cooper Library 416 (Brown Room).
At 3:30 pm, Dr. Susanna Ashton, chair of the English department, will give a brief presentation about her use of the Ancestry database in her scholarly research on formerly enslaved persons in the United States.
At all other times, Libraries employees who are experienced users of the Ancestry Library database will be on hand to offer one-on-one assistance with searches. Those with valid CU userids are encouraged to bring their laptops; there will also be laptops available for those who do not have them or who do not have CU userids.
Light snacks will be served.
Please feel free to pass this information on, especially to any student workers in your areas.
—Camille Cooper
---
Facilities Updates
Library Emergency Procedures are now linked on the staff web home page – for ease in finding! http://library.clemson.edu/depts/staffweb/
Update on projects
Plans are underway to move map cases and fiche cabinets from 3rd floor down to the little used room 108 over spring break. I'll keep you posted. Other work scheduled for March is
1) a slight reconfiguration of the west end of the Library Services Desk
2) elevator cars will be carpeted with a stain resistant/heavy use carpet that is installed all over campus
3) we are asking for a quote to improve security in office 411 by adding nicer panels & a locking door.
4) New furniture for 401 Byrnes Room will arrive March 8. Existing furniture matches 3rd floor so it will be moved to available space.
I'll provide more information on all projects as updates are available. Email me with any questions!
Galentine's Day bake sale & clothing drive February 13th, 2019 from 9am – 3pm on the Library Bridge
An organization is hosting a drive benefiting women's shelters in the area and are asking people to donate clothes, feminine hygiene products, new makeup, and more acceptable and good condition items that fall under those categories. A bin will be set up next to the table for people to place the items into.
For this or information on library bridge reservations in general, go here:
https://clemson.libcal.com/calendar/bridgereservations/?cid=4761&t=d&d=0000-00-00&cal=4761
—Teri Alexander
---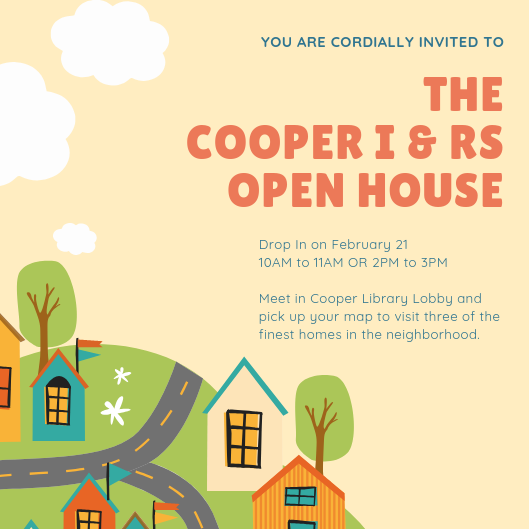 —Suzanne Rook Schilf
---
Researching African American Ancestry

Date:  February 25, 2019
Location:  Self Auditorium, Strom Thurmond Institute Building, 230 Kappa Street, Clemson, SC (located off of Perimeter Road on the Clemson University campus https://goo.gl/maps/ddXjpgSTh9R2 )
Time:  6:30 p.m. with reception afterwards
Researching African-ancestored families can be challenging due to the lack of pre-1870 documentation. Names of enslaved people first show up in 1870, the first federal census after emancipation.  Finding records of ancestors before the 1870 can be complicated but there are resources and creative ways to discover the ancestry and stories of African Americans.   Please join us for an evening of learning and understanding with LaBrenda Garrett-Nelson on discovering those creative ways to uncover your family ancestry.
LaBrenda Garrett-Nelson is an author, lecturer, facilitator, and certified genealogist specializing in African American genealogy in the South. She has spent more than 35 years researching her African American Garrett line, and others, who lived in or near Laurens, SC when slavery was abolished.  Additional information about Ms. Garrett-Nelson and her research can be found at https://www.labgarrettgenealogy.com/
Co-sponsored by the Clemson University Libraries and the Harvey and Lucinda Gantt Multicultural Center.
Please register for the event at https://clemson.libcal.com/event/5135469
—Brenda Burk
---