For initial instructions, please click the following link:
http://library.clemson.edu/depts/tscm/policies-procedures/near-match-procedure-student/
Part II: Library Specialist
When the titles are the same in the authority records and our catalog;
Search Millenium to see if we have the authority record already. Do an author search to see if the form of name is in the database. If it is in the database, it will have →Authority Record beside it in the index.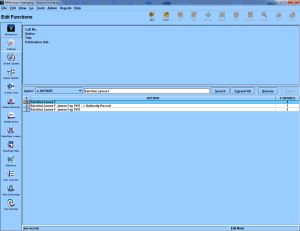 If you find an authority record in Millenium, do the following:
Find your original Millenium record, either by using Recent Search or copying and pasting the number again.
Click once in the name (100) field.
Hit Ctrl and G at the same time. The index will come up. The name in your original record will be in red, and the authority record will be nearby with its →Authority Record prompt.

Note: if there are more than two records that need to be corrected, the titles will be in red, not the author's name.
Example of screen: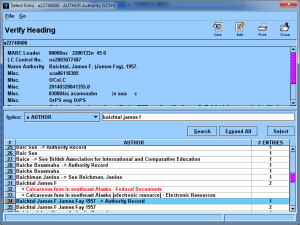 d. In the index, DOUBLE click on the line with the name and >Authority Record. You will see a window where both the old form of the name and the new form of the name is listed. It will ask you if you want to use the new heading. Click OK. Your original bib record will have the new form of name.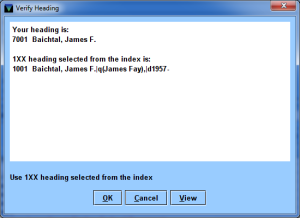 After clicking OK, SAVE the bib record, either by clicking the SAVE button or by typing Cntl-S.
Part III:
If there is NOT an authority record in Millenium:
Search OCLC for the record in the LC Authorities File. See separate procedure, Logging in and Searching in OCLC.
From the Authorities pull-down menu, select Search LC Names and Subjects. You will get a pop-up window like this: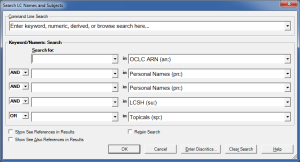 There are two ways to search: Command Line and Keyword/Numeric. You will use the Keyword/Numeric Search. On the top line, in the box after "in" pull down to LCCN (ln:).
2.  Copy and paste the LCCN from the LC Authorities File into the Authority search screen in OCLC. Click OK.
3.  You should see the matching authority record in OCLC.
4.  Click Export (little E with a green arrow). DOUBLE-click OK in the window that comes up.
5.  Go back to Millenium and redo the name search. You should see the authority record in the index.
6.  Proceed with Ctrl-G and steps as above to change the heading in your bib record to the new heading.
LB 5/13/2014; rev 6/18/2014, 5/20/2015