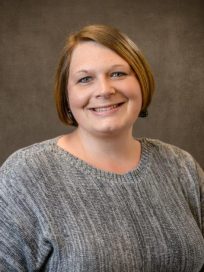 Tara joined Clemson Libraries in March 2012 as the Library Manager of the Education Media Center. The Education Media Center (EMC) is a curriculum laboratory and materials center that primarily supports the students, faculty, and staff of the College of Education at Clemson University. Tara and the EMC staff assist patrons with finding and applying books, articles, manipulatives, and technological resources for course assignments, lesson plans, and educational research. Tara spends the rest of her workdays ensuring that the EMC has well-trained and helpful staff, has relevant and up-to-date collections and services, and has efficient policies, procedures, and budgets.
Tara began her library career as a circulation student employee with Western Carolina University's library in 2004. Upon completing her Psychology undergraduate degree in 2008, she accepted an assistant supervisor position with the department and immediately began creating an orientation and training program for the 25+ student employees she supervised. Tara became passionate about discovering resources and developing procedures, programs, and manuals to facilitate the orientation and training of employees, and in August 2010, she obtained a Master's in Human Resources degree specializing in training and development. During her graduate program, she gained experience in class instruction while interning with Mission Hospitals in Asheville, NC, and she also began assisting the Business Officer of WCU's Hunter Library with human resources, finances, and other administrative duties. Tara worked briefly in academic and corporate human resources, but she greatly missed the academic library setting and is incredibly thankful to be a part of Clemson University, the Libraries, and the College of Education! She loves her job so much, that she recently completed a second master's degree in Library and Information Science from Valdosta State University in July 2017 and looks forward to continuing to contribute her knowledge and skills throughout the field.
Tara is not all work and no play though! She truly enjoys exploring all that life has to offer and spends most of her time with family, friends, music, nature, food, drink, art, the written word, and all other creative expressions. More than anything, she cherishes sharing her passions and time with her daughter.