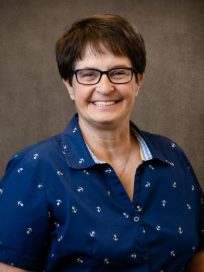 Robin began working at the Clemson Libraries in 1993. Her duties include managing operations at the Library Depot and oversight of the Libraries' branch courier service. She enjoys how these dynamic systems ensure that there are new and interesting opportunities and challenges everyday.
Since joining the Libraries, she has served in a variety of roles including circulation assistant, document delivery coordinator, interlibrary loan lending, records analyst- micrographics and digital imaging lab supervisor. She graduated from Lander University with a B.S. in Sociology with a Criminal Justice emphasis.
She lives in Anderson with her partner Mary and both are active volunteers in the community. Her hobbies include boating, geocaching, performing arts and travel.