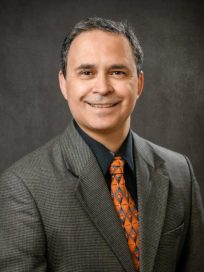 Derek, first joined the Clemson University Libraries in 2006. Since then he has held a variety of technical services librarian positions within the Libraries. In late 2014, Derek coordinated the Cooper Library 5th Floor Adobe Project deselection and relocation project. Later that year, he accepted the team leader position for Collection Management in the Technical Services & Collection Management Unit. This position supports the acquisitions of new materials and gifts to the Libraries collections and helps with the Libraries' collection management and assessment activities. He participates in the compilation and reporting of statistical data for ongoing assessment of the library collections. Derek coordinates deselection, relocation, and related projects for the Libraries.
Derek is a graduate of New Mexico State University, where he earned a Bachelor of Criminal Justice and a Bachelor of Arts in Psychology in 1993. He relocated from the enchanted desert landscapes in New Mexico to the lush woody scenery of Rock Hill, South Carolina in September 1993. He received his MLIS from the University of South Carolina in 2002. His checkered past includes working as a Serials Cataloger at USC Thomas Cooper Library, in dreaded Gamecock country; a three year run as a police dispatcher, records manager, and booking officer in the peninsular city of Tega Cay, SC (Polynesian for "Beautiful Peninsula"); and a brief stint, as a 911 Fire and Police Telecommunicator and a Records Manager for the City of Columbia's Police Department. He enjoys all aspects of librarianship, but is particularly drawn to working in the areas acquisitions, collection management, and cataloging. His research interests focus on the acquisition and retention of electronic and print collections for academic libraries, gaming as social pedagogical tool in libraries, and issues of diversity and social responsibility in academic libraries.
Derek is an avid board, card, and role playing game enthusiast (particularly those games from the golden age of wargames that were published during the 1970s-1990s). Although, he is known to dabble from time-to-time with online and computer games. He is an enthusiastic reader of history, science, politics, literature, and current events. Derek is a fan of college and professional soccer. He occasionally travels around the US, but rarely has the opportunity to travel abroad. To date, his travels outside of the US have taken him to only parts of Canada, northern and central Italy, and northern Mexico. Derek lives in Clemson, where he regularly battles heat and humidity, weeds, fire ants, and other noxious pests for possession of a strip of land he calls home. His humble abode is shared by his life partner, Robin, and their two highly inquisitive progenies: Patrick and Samantha.