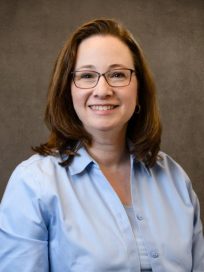 Suzanne came to work at the Clemson University Libraries as a newly minted librarian, hired as the reference librarian for psychology, sociology, forestry and PRTM. She also served as the education reference librarian before becoming Head of Reference. In her current position as Head of Information & Research Services, Suzanne oversees all unit services, which include circulation, reserves, interlibrary loan, instruction, and research services in Cooper Library, Gunnin Library, and the Education Media Center.
Suzanne received her MLS from the University of Alabama and her BA in English from Clemson University. Since beginning her career as an academic reference librarian Suzanne has seen many changes in the ways students discover, evaluate, and use information. She and her colleagues in the I & RS Unit strive to create and maintain user-focused and high quality library services for Clemson students and faculty.
Before working at Clemson, Suzanne spent her college years working at Eddie Bauer where she learned the basics of good retail customer service (smile, acknowledge, add on value, thank by name). She also worked for Kelly Temporary Services where she spent time dispatching trucks, scheduling appointments for patients needing MRIs, hunting down people who didn't pay their hotel bill, and answering the phones for execs at a computer mainframe company.