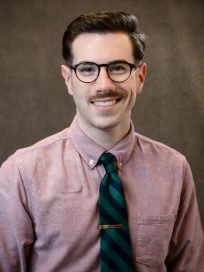 Appointed a Library Specialist in 2016, Rodger serves as Student Employee Trainer and Physical Reserves Coordinator for the Cooper Library Circulation Department. With backgrounds in customer service, information design, literature, languages, and music, Rodger furthers the service philosophy of Clemson Libraries by maintaining an ever-evolving Canvas-based training program, collaborating with University faculty and students, and ensuring a learner-centered flow of various electronic and physical mediums throughout and beyond the University Library System.
Rodger graduated with a Bachelor of Arts in English Literature and Spanish language studies from Winthrop University in 2015. In May 2020, Rodger completed a Master of Arts in English from Clemson's MAE program, during which he focused on

the use of digital devices by individual—and, more-specifically, non-professional—audience members to capture and reproduce a live music performance to help answer the larger questions of who we are as authentic, individual beings and how the human experience is contextualized. His thesis, entitled "Finding the Ephemeral: Aura, Apperception, and Digitally-Mediated Music," was published in March 2020. Other interests include long-distance trail running, cooking, song writing, and tattoo collection.