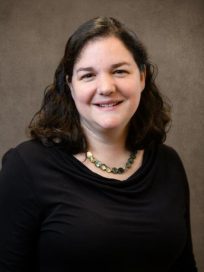 Renna Tuten Redd has been at Clemson since 2015 and serves as the Interlibrary Loan Librarian. Her duties involve overseeing all resource sharing operations, including: the borrowing and lending of library materials to institutions around the world, the PASCAL Delivers service (serving academic libraries in South Carolina), and electronic article delivery.
Renna is a 2003 graduate of the University of Georgia with a BA in Art History. She received an MA in Southern Studies from the University of Mississippi in 2006 and an MLIS from the University of South Carolina in 2007. Prior working at Clemson, Renna served as Information Technology Librarian at Anderson University and was an archivist for 7 years at the University of Georgia.
In her spare time, Renna enjoys hiking and exploring the Blue Ridge Mountains with her husband Carl and daughter Ellen, collecting prints and books, watching college football, and hanging out with her two black cats, Lester and Grady.