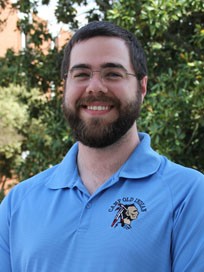 Paul started working at the Clemson University Libraries in January of 2009 as a student employee.  As a student, Paul worked for Richard Kyle at the 5th floor computer helpdesk providing the library patrons with computer and printer assistance.  Along with graduating from Clemson University in 2014 with a degree in Computer Information Systems, Paul also became a TLP employee assisting Richard in the Library Technology Unit.
Along with working at the Clemson University Libraries, Paul worked for 10 years at the Blue Ridge Council's local summer camp, Camp Old Indian.  During his time at Camp Old Indian, not only did Paul teach merit badges but he also worked to help maintain the camp's electronics and their paperwork management system.
Paul currently lives in Central, SC.  He enjoys listening to music, playing games (both video and board), and thoroughly enjoys Science Fiction.