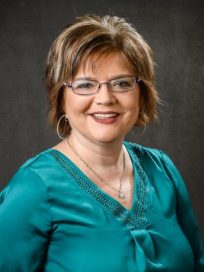 Michelle originally began working at the Clemson Libraries in 1999.  She left when her daughter came along, but came back in 2006 to stay.  Michelle works with University departments in advising the South Carolina Public Records Act and legal retention of state records, manages the Records Storage Center, and assists the Library Stacks Manager with offsite library storage items.  Michelle is one of only three trained to drive the offsite library orderpicker. She now serves as Library Staff Senator.
Michelle graduated from Southern Wesleyan in 1998 with a degree in business administration and computer information systems.  While in college, Michelle worked in a public library, which is how she came to work for Clemson Libraries.  She has been able to learn the public and technical workings of a library.  Her role now has expanded into university records.  Michelle loves the "behind the scenes" work of database maintenance and quality control and making things easier for others to understand.
Michelle lives in Six Mile with her husband, Brian, daughter, Hannah, and son, Luke, and two spoiled dogs.  In her free time, Michelle loves shopping, reading, and exploring new places.  Her favorite place is the beach, where she and her husband hope to retire.