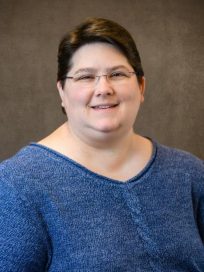 Meredith joined Clemson University Libraries in August 2003 as one of the Business Reference Librarians. She works with students and faculty in the areas of Accounting, Management, Marketing, and the MBA program.
Meredith received a Bachelor of Science in Early Childhood and Elementary education from the University of West Alabama. After one year as an assistant kindergarten teacher, she realized that daily life in a classroom wasn't for her. Meredith received her Master of Library and Information Science degree from the University of Southern Mississippi in 1997. In early 1998, Meredith traveled to Zambia, Africa to work as a librarian and missionary at the Baptist Theological Seminary of Zambia. After this rewarding experience, Meredith returned to Mississippi in December of 1999. Meredith followed up her Africa experience with a job at Ole Miss where she worked for three years as the Accounting and Electronic Resources librarian.  South Carolina was the next stop on her journey.
Meredith currently resides in the little town of Pendleton. She loves the town square with the local bakery and annual Spring Jubilee. Meredith is involved with activities at Utica Baptist Church in Seneca where she helps out in the church media center, sings in the choir and on the praise team. Her hobbies include reading and playing the piano.