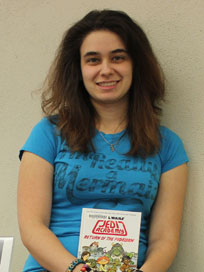 Maggie first began working for the Clemson Libraries in 2007 (or maybe 2008, she doesn't really remember) as a student worker in Special Collections.  She quickly realized that sorting paperwork wasn't her thing and convinced her supervisor to send an email, resulting in her transfer to Cooper Library.  Maggie spent (roughly) the next three years shelving books in Cooper; she worked in the main stacks, spent a semester or two shelving the juvenile collection, and then a couple of semesters in the popular reading collection.
Maggie loved her work at the library so much that after receiving her bachelor's degree in History from Clemson University in 2010, she began working toward a master's degree in Library Science from the University of South Carolina, which she received in 2012.  During her first semester of graduate school, she took a full-time position in the Circulation unit at Cooper Library.
As a member of Circulation, Maggie's main responsibilities include working shifts at the Information Services Desk, searching for misshelved items, pulling page requests, and – currently her favorite duty – curating monthly topical displays.  She also serves as staff support for the Humanities Research Team, which she very much enjoys.
Maggie lives in Clemson with her husband, Nathan, who also works for Clemson University.  She spends much of her free time reading and reviewing young adult materials for the Cooper Library blog as well as for School Library Journal.  When she isn't reading, Maggie can usually be found yelling at a soccer game.