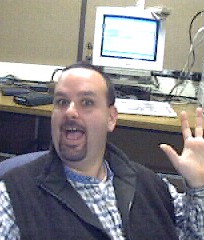 Richard started working at the Clemson Libraries in 1997. His duties are providing computer support to the faculty and staff of the library.  Along with his employees they provide support for PC and Apple desktops and library lab computers in Cooper Library, Gunnin Library, Special Collections, Tillman Media Center and the Library Depot.  He also provides data storage for the library and supports remote authentication access of library e-resources.
A graduate of Tri-County Technical college, he began his technical career working for Shealy Electrical Wholesalers where he provided support on their mainframe and worked on setting up computers for their branches which at that time were all located within South Carolina.
Richard lives in Anderson with his wife Beth and two children Zoe and Zachary. He enjoys swimming, cycling and jogging with the hopes of participating in a Sprint Triathlon in the future.
**Richard competed in his first Sprint Triathlon on April 12th 2015, time was 1:43.