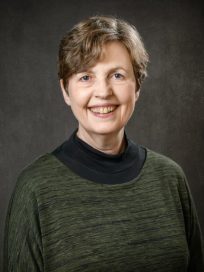 Kathryn Wesley started working at Clemson University Libraries in 1998, with her brand new MLIS from the University of Southern Mississippi. Originally hired as serials cataloger, she took on responsibility for the technical services aspects of the federal documents collection in 2009, and was appointed interim depository coordinator in 2010. With the 2013 library reorganization, she became continuing resources and government documents librarian, with responsibilities in acquisitions, cataloging, and binding of continuing resources, and government documents management.
A graduate of Northeast Louisiana University (now the University of Louisiana at Monroe), Kathryn started out in biology, but ended up with a B.A. in English. She worked in library staff jobs for almost two decades. With on-the-job experience in public and technical services work in public, academic, and private legal libraries, she went to library school knowing she wanted to work with serials in an academic setting, near mountains. Before going to library school, she briefly considered finishing that undergraduate biology degree. To test the waters on this plan, she worked for almost two years at a quality control lab for a large poultry company. Even there, she eventually moved into an information management role, filing OSHA and EPA reports, and explaining to everyone how a loose-leaf filing service works. More importantly, she learned that library people are her people.
Kathryn has been an active member of NASIG (formerly the North American Serials Interest Group) since 1998. She has served on and chaired numerous NASIG committees, including a stint as editor-in-chief of the NASIG Newsletter and ex officio member of the Executive Board. She has presented at the conference, and made a number of contributions to the Proceedings, including writing two indexes.
Kathryn loves gardening (food plants and natives), cooking, practicing yoga, and spending quality time with her grandson. She is an enthusiastic recycler and composter, and advocates for the welfare of bees and the tolerance of non-venomous spiders and snakes.