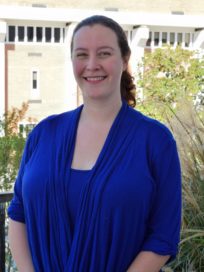 Joanna started working at Clemson in the fall of 2015. She works for the Technical Services Unit mostly ordering books for the librarian subject selectors but also working on whatever projects her team has going on. Born and raised in Athens, Georgia, her background in libraries includes working at a public library, a small Christian college library, and then acquisitions/tech services (including basic CIT duties) at The George Washington University in Virginia.
She took a break from the library world and ended up becoming involved in the wonderful world of winery agrotourism while living in Virginia (so she's a bit of a wine snob, sorry!). Joanna has also gone through a year-long education program to teach a specific method of fertility awareness. In her spare time, she works closely with her clients and specially-trained doctors to help provide quality reproductive healthcare to women/couples based on this method of charting, and as a result has seen numerous women (including herself) get more accurate healthcare and also successfully achieve pregnancies after many years of infertility.
All of her education is virtually unrelated to her field of work: she got her Bachelors of Science from Emmanuel College in Franklin Springs GA majoring in Biblical Studies with a minor in Greek, and has a Masters in the field of Historical Geography that she got while living in Israel for four years while also participating in the Tel Zeitah Archaeological Dig for a few seasons. She has traveled certain parts of the world, visiting over 20 different countries.
She commutes from across state lines in Georgia where she lives with her husband Art, brand new baby son Gideon, and two highly ungrateful but cute cats Ramses and Momo. Joanna and Art are also devout Catholics. They enjoy winery-ing when they get a chance to travel, watching pretty much any Sci-Fi shows as well as Bizarre Foods, and being aspiring foodies.