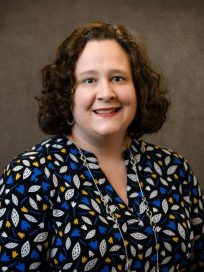 Jennifer joined Clemson University Libraries in 2007 as the Physical Sciences Reference Librarian, and now works part-time as a Digital Projects Assistant in Library Technology.
Jennifer graduated from Penn State University with a BS in Chemistry and a minor in Spanish, and worked in the pharmaceutical industry before earning an MSI from the University of Michigan in 2002.  Her work in libraries began at Penn State, where she shelved and circulated books in the Physical Sciences Library.  As a graduate student, she worked in reference at the Taubman Medical Library, and interned at the American Association for the Advancement of Science (AAAS, publishers of Science) in Washington, D.C.
Jennifer is originally from Pittsburgh, PA.  She enjoys reading and can often be found playing board games and visiting parks and waterfalls with her husband Rick and their children, Elise and Wade.  Thanks to her son Wade, she has a new and growing interest in all things soccer-related.