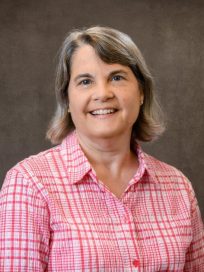 Sue joined Clemson University Libraries in 1990 as Curator of Exhibits. She works in the Special Collection Library creating and installing temporary exhibits in the Special Collections exhibit area in the Strom Thurmond Institute building and in the lobby of R.M. Cooper Library; maintaining historical artifacts within the Libraries' collection; assisting researchers in using materials in the Special Collections Library; and monitoring campus historic artifacts, particularly paintings and sculpture located in various campus buildings.  She enjoys historical research, especially discovering and promoting hidden historical gems that make connections between the past and the present.
A native of New Jersey, Sue was an American Studies major at Dickinson College (Carlisle, PA) before moving south to earn an MA in Applied History at the University of South Carolina. Ten years later, she earned a Master of Library and Information Science (MLIS) through the University of South Carolina's distance education program.  Sue has worked at both the South Carolina State Museum and the Tennessee State Museum.  Her published work includes a museum catalog essay about New Deal art in South Carolina and thirteen entries in The South Carolina Encyclopedia.
Sue lives near Clemson with her husband Will, who is Director of Clemson University's Historic Properties, and teenage sons Davy, Nathaniel and Daniel.  She keeps busy maintaining her household and shuttling her children to various extracurricular activities. She enjoys warm weather, the outdoors, reading, laughter, and road trips with her family.