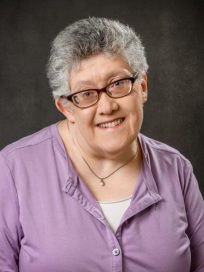 Lisa came to Clemson in 1990 from Oklahoma State University to take the job of Monographs Cataloger. Upon driving into Clemson for the first time, she drove down Highway 123, noted the KFC and Ramada Inn (not much else was there), and thought to herself, "I'm giving this job three and a half years max…" Now, twenty-six years later, that has just become a story she sometimes tells job candidates and new hires… but her blood does run purple, if not orange…
She has served the Libraries in a variety of roles over the years: as monographs cataloger, special formats cataloger, interim serials cataloger, interim head of cataloging, and permanent head of cataloging. Now, as a part of the Technical Services and Collection Management Unit, she is the Team Leader of Standards Management and Assessment, which focuses on database (catalog) maintenance, authority control, setting and maintenance of cataloging policy, unit statistics, unit ILS liaison, and StaffWeb content manager. This is all part of the infrastructure: the unit's, the Libraries', and the University's.
Lisa attended Mercer University as an undergraduate, majoring in French and minoring in Psychology. After a one-year stint as a high school teacher aide in her hometown, she went off to graduate school at Vanderbilt University, earning an MAT degree in French. Library work entered her life when she took a student job in Circulation at the Peabody College Education Library during graduate school. After graduation, she decided she did not want to be a high school French teacher (student teaching and a bad job market will do that to you). So, she got a full-time job in the Serials Department at Vanderbilt University Libraries, where she tried to wrangle unwieldy serial subscriptions under control. (Tried is the operative word.) That job, plus all the librarian job ads posted at the Peabody Library promising real jobs with real money, led her to library school at Indiana University, where she got her MLS in 1986.
In her spare time, Lisa enjoys travel, music, movies, reading, cooking (sometimes), and learning various crafts (the latest is crochet). She lives in Pendleton with a beautiful and completely spoiled white cat named Sophie in a townhouse cluttered with cat toys, books, magazines, piano sheet music, living and dead media formats, and yarn.