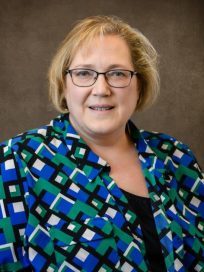 Brenda joined Clemson University Libraries in 2014 as the Head of Special Collections.  Previously she was the Philanthropic Studies Archivist at IUPUI University Library and Public Records Archivist at the Wisconsin Historical Society.  As part of Special Collections, she will continue to build a premier research collection that supports the university and create an environment encouraging scholarly inquiry, creative thinking, and lifelong learning.  Her research interests include information seeking behaviors of users, course-integrated instruction, public awareness and perceptions of archives, and digital preservation.
Brenda graduated from the University of Wisconsin-Madison with a BA in History and a MA in Library and Information Studies with an emphasis in archival administration.  On her first day of college, she started working at the Wisconsin Historical Society.  While there she discovered a love for the work and changed her major from Business to History.   Under the mentorship of F. Gerald Ham, Brenda developed her knowledge as an archivist and a teacher as she pursued her degrees.
Brenda resides in Easley, SC.  A native of Wisconsin, she keeps moving further south!  Currently, she is exploring the region and learning about Southern culture and history (and enjoying every minute of it!).   In her free time, she enjoys watching football especially the Green Bay Packers, her beloved Wisconsin Badgers and now the Clemson Tigers; cooking and mastering making the perfect grits and other Southern cuisine; and surrounding herself with good friends, humor, and always Spotted Cow to drink.