Facilities Updates
The project to install a public address system in Cooper is moving slowly due to some technical complications and ADA code requirements; however I am assured that UF is working as quickly as possible. Our project request comes at a time when emergency management is looking at a campus wide system so they want to be certain our system will intergrate. I'm also asking the question if the new VOIP phones work with the campus alertus system. I will keep you posted.
—Teri Alexander
---
Clemson Pride 2019 Queer Scholarship Showcase

Go by to attend the inaugural "50 Years After Stonewall: Queer Scholarship Showcase" to be held in Ballroom B at the Hendrix Student Center on Thursday April 4th from 3 to 5pm. Scholarship comes in all forms and a variety of Clemson presenters will share lightning rounds of their work focused on the LGBTQ+ community. Part of Clemson Pride 2019 and co-sponsored by us Clemson Libraries, The Gantt Center, and Department of PRTM. I've served on the organizing committee for this along with Stephen Lewis, Senior Lecturer PRTM and Ciera Durden, Gantt Associate Director of Multicultural Community Development. If you remember, Ciera recently facilitated Ally Training for us.
—Ed Rock
---
Social Media Listening Center Open House in Brown Room

Interested in learning more about our campus Social Media Listening Center (SMLC) and what kinds of research are conducted there? Drop by the Brown Room this coming Monday April 8th from 12-1pm; 1-2pm, or 3-4pm to learn more from Amanda Moore, Lecturer and Associate Director of the SMLC, her students, and interns.. They are currently working hard to track the digital conversation surrounding #MarchMadness. They'll be previewing their findings and you'll have to chance to try some social media listening yourself.
(Photo courtesy of: https://www.clemson.edu/cbshs/centers-institutes/smlc/about/index.html
—Ed Rock
---
Photographer Needed
Do you have a passion for photography and are willing to share your talent for a good cause? The Employee Recognition Committee/Employee of the Year Committee is looking for a volunteer photographer from among our faculty/staff to take photos at this year's reception on Monday, May 13th from 2:00 – 4:30pm.
You would be welcome to use a Libraries or Admin camera to complement your work. Your mission, should you choose to accept it, would be to take photos of the venue, food, smiling faces, nominees, award winners, and event highlights.We could really use your help.
If you are interested, please send an email to Kellie Marlatt, kmarlat@nullclemson.edu
—Kellie Marlatt
---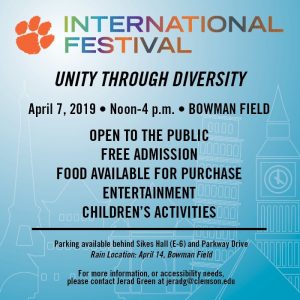 —Kellie Marlatt for Christian Barrientos, Graduate Assistant at the Gantt Multicultural Center
---