Casual Lunch Fridays Continue…
The Casual Lunch Fridays will continue for the Spring 2019 semester. We've already held the first one on Friday 1/18 at Schiletter, but there will be more, including at two new locations, The Depot and the Advanced Materials Research Center (AMRL) lobby beside The Depot.
Some of the dates will be for Wednesday lunches, go beside The Depot for catering by the Friends company in the lobby of the AMRL building (Advanced Materials Research Lab) and at The Depot for pizza provided by the Dean combined with potluck by us. Prices on the Friends lunches are in the $6-$8 range for either a hot dish, vegetarian, salad, or sandwich, with desserts at $3. Our understanding is sometimes there are also $5 lunch choices with Friends. Darius will be our anchor person out at The Depot.
When?:
11:45pm start time.
How?:
Come and go as you are able. RSVPs not necessary. Just meet up in the designated area of the selected dining room anytime you can at or after the appointed time.
Who?:
Everyone. We can take turns being the host who would be willing to be the first person there at 11:45am. Darius will be joining as a host and Lili and Ed will continue, but consider that role and sign up (just send Ed an email to be the next host and he will continue to send out reminder announcements for the lunches.)
Where?:
*The Depot – kitchen/lounge area beside the 101 Conference Room
*AMRL – Advanced Materials Research Lab lobby
*Schiletter – sit at the long row of tables on the south side with windows facing the back of Hendrix (these tables on same side as the dessert and ice cream bar!)
*Core – sit in area of tables/counter closest to the Fort Hill side entrance with windows facing the outdoor sculpture Illuminated Chroma Wind Trees (the one that looks like flying birds on poles)
Remaining Spring 2019 Dates?:
(All as of the 11:45am):
*Fri 2/1 Core – host: Jessica K-T
*Wed 2/13 The Depot – host: TBA; theme: Valentine's Day
*Fri 3/1 Core – host: TBA
*Wed 3/13 AMRL – host: TBA
*Wed 3/20 The Depot – host: TBA; theme: Spring Break Week
*Fri 3/29 Schiletter – host: TBA
*Fri 4/12 Core – host: TBA
*Fri 4/26 Schiletter – host: TBA
*Wed 5/8 The Depot or AMRL – host: TBA; theme: Graduation Week
Make a note on your calendar of the dates and locations and we hope to see you there.
Thanks!
–Darius Jones , Lili Klar, & Ed Rock
---
Outstanding Women Awards- call for nominations

The President's Commission on the Status of Women annually honors individuals who have made outstanding contributions to improve the status of women. These awards include:
• Outstanding woman academic faculty member
• Outstanding woman staff member
• Outstanding woman graduate student
• Outstanding woman undergraduate student
• Distinguished contributor
• Thea McCrary Student Award for Outstanding Service, named in honor of the late Thea McCrary, former captain of the Clemson University Police Department and a former chair of the President's Commission on the Status of Women
To submit a candidate for consideration, use the new, easy-to-complete nomination forms on the Women's Commission website.
https://www.clemson.edu/administration/commissions/womens-commission/awards.html
Nominations for all awards must be submitted to the Women's Commission office in 127 Hardin Hall by 4:30 p.m. Friday, March 1.
Honorees will be recognized by President James P. Clements at a lunch reception on April 3.
If you have questions or need additional information, contact Linda Tindal at 864-656-1532 or ltindal@nullclemson.edu.
—Robin Chambers
---
Completing Performance Evaluations: Training for Employees
In my talks with staff across the libraries, some of you indicated interest in training for employees (not just supervisors) around the new performance evaluations. HR is offering two series: one for employees and one for supervisors. You can find and sign up for one of the sessions (some of them are in Cooper 309) at clemson.bridgeapp.com/learner/calendar.
—Josh Morgan
---
Teacher Forum Series: Inclusive Information Literacy Instruction
This is our first session in the series. After this session, participants will be able to explain what active learning is and identify benefits in order to implement inclusive teaching practices in their own information literacy sessions.
1/31/19 in 103 Cooper Library from 2-3pm.
—Anne Grant
---
Facilities Updates
Here's a complete list of upcoming or pending projects:
6th floor project to open up study space – Summer 2019
3rd floor renovation project – date TBD
411 improve security by adding new panels and a door – delayed but will happen this semester
401 Byrnes – new tables/chairs on order
Lighting project to upgrade all fixtures in Cooper – summer 2019
Makerspace temporary location – 5th floor north east corner of computer lab – end of semester
PA System installation – spring break partial work and remainder summer 2019
4th floor single use toilet renovation – summer 2019
Lib Serv Desk – slight reconfiguration – spring break 2019
—Teri Alexander
---
Journal Club February 1st!
The next meeting of the Libraries Journal Club will be held Friday, February 1st, from 10-11AM in the Brown Room. This informal group is open to any interested student workers, staff, or faculty that would like to discuss current library trends. "Membership" in the group is completely voluntary; you can come to any meeting whether or not you've been to any previous meetings, just make sure the read the article first. There will be donuts!
Megan Sheffield is choosing this week's article: Coates, H. L., Carlson, J., Clement, R., Henderson, M., Johnston, L. R., & Shorish, Y. (2018). How Are We Measuring Up? Evaluating Research Data Services in Academic Libraries. Journal of Librarianship & Scholarly Communication, 6, 1–33. https://doi.org/10.7710/2162-3309.2226
See you there!
—Megan Sheffield
---
Bittersweet Departure!
Thanks to all who dropped by Tammy Crane's Retirement Reception Friday to bid her farewell and celebrate her many years of dedicated service to Clemson University and Clemson University Libraries and her friendship with us all over the years. Please enjoy a few photos from that event. Other photos will be downloaded on the Libraries' Share Drive soon!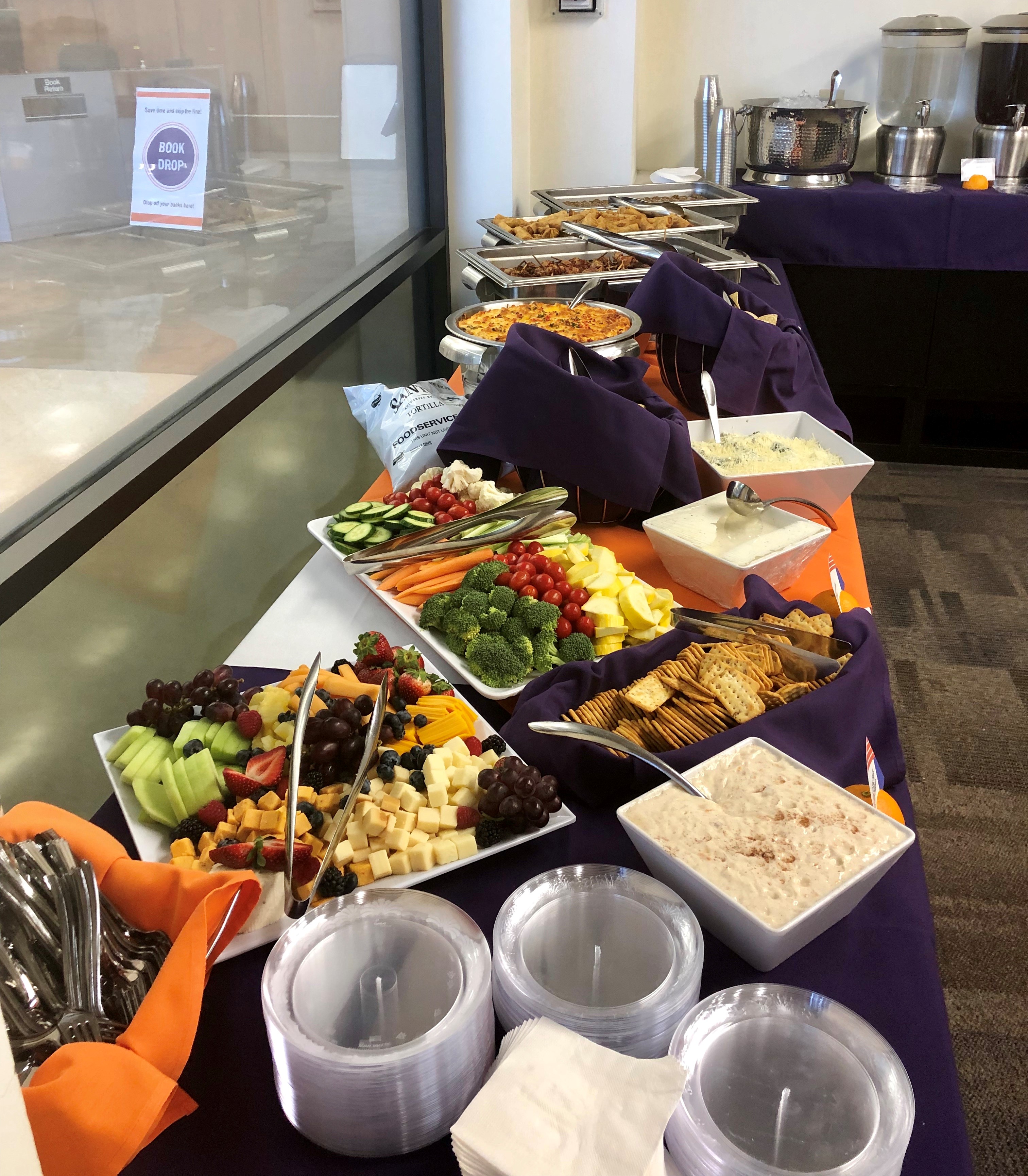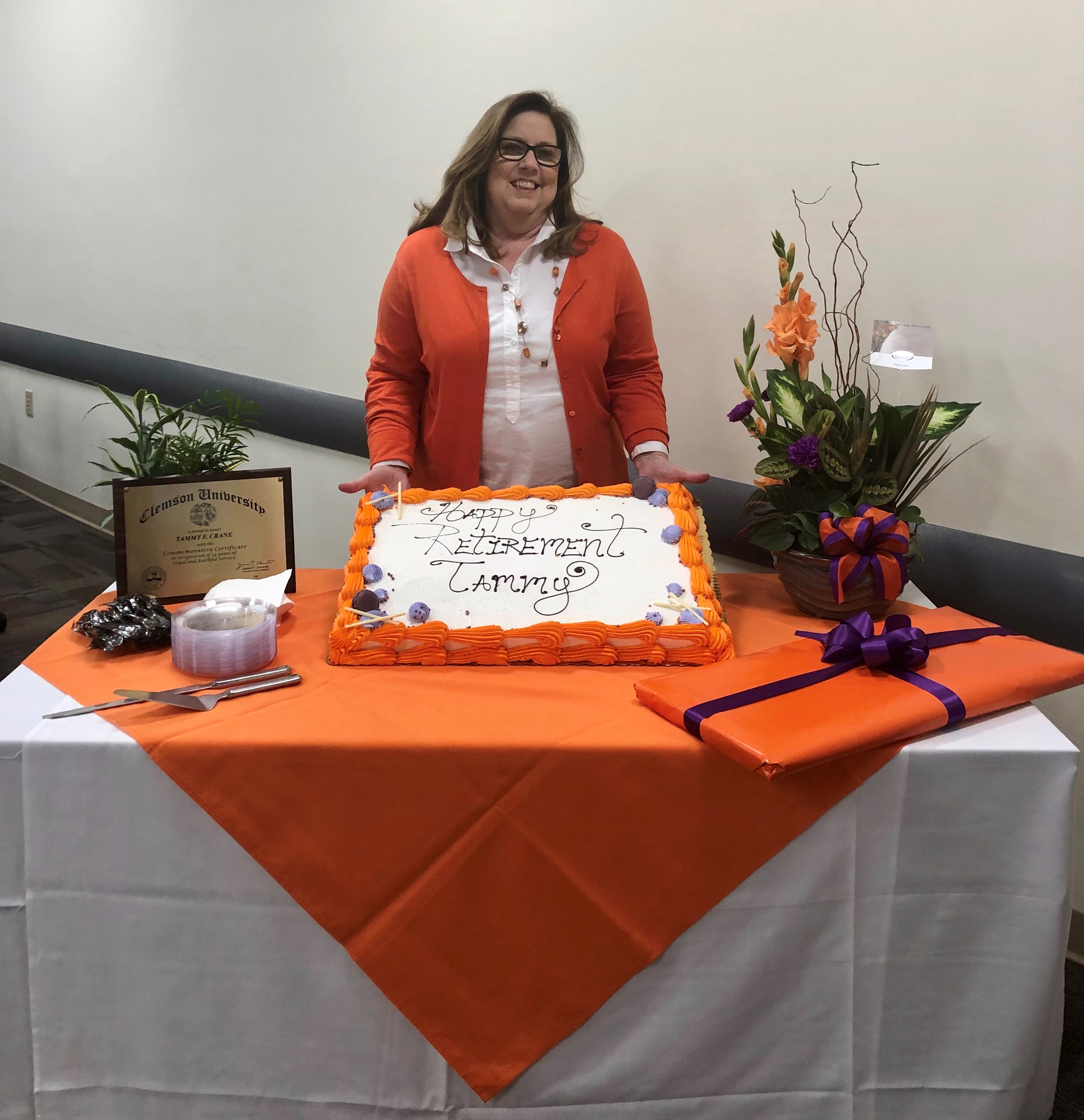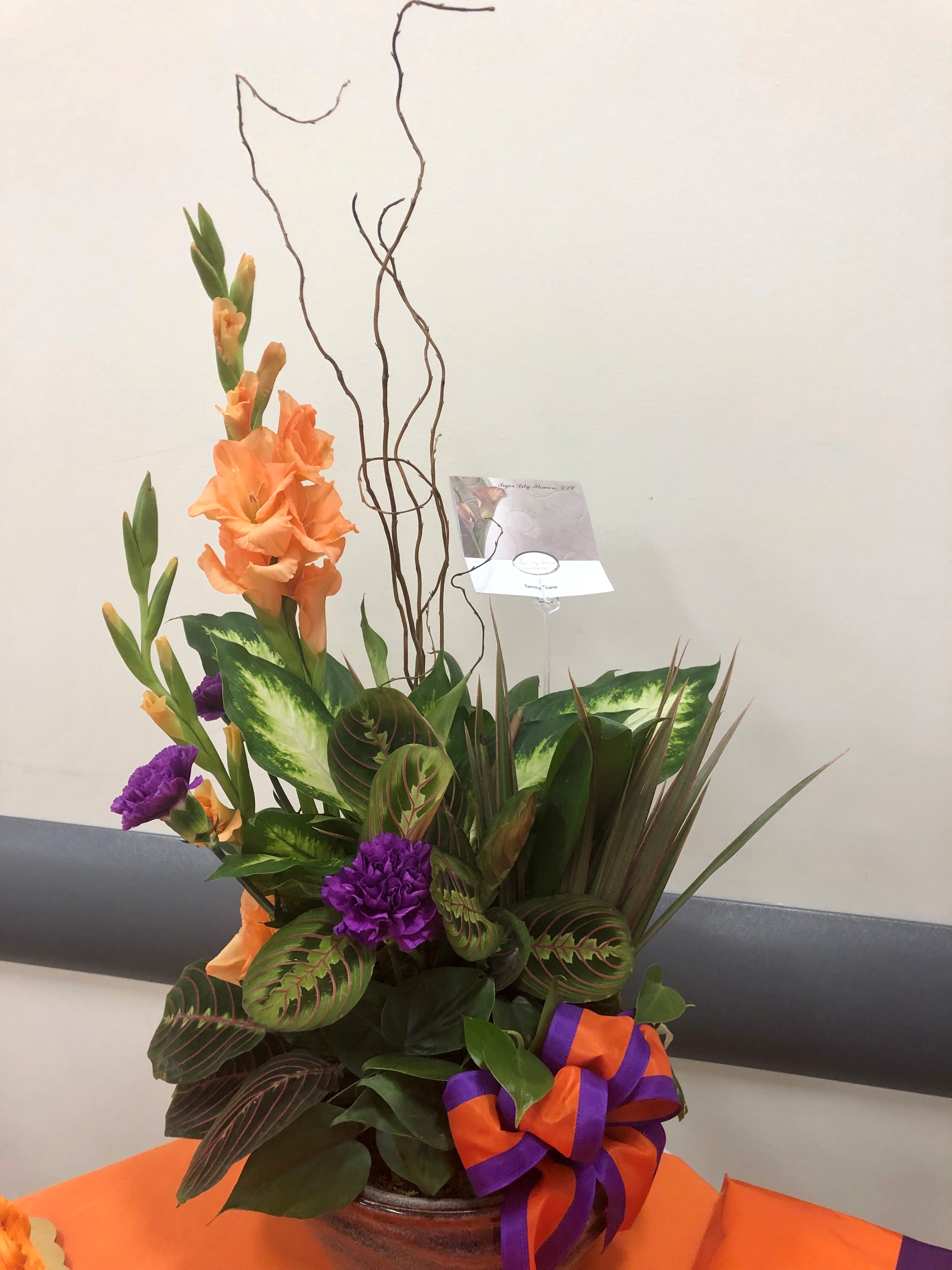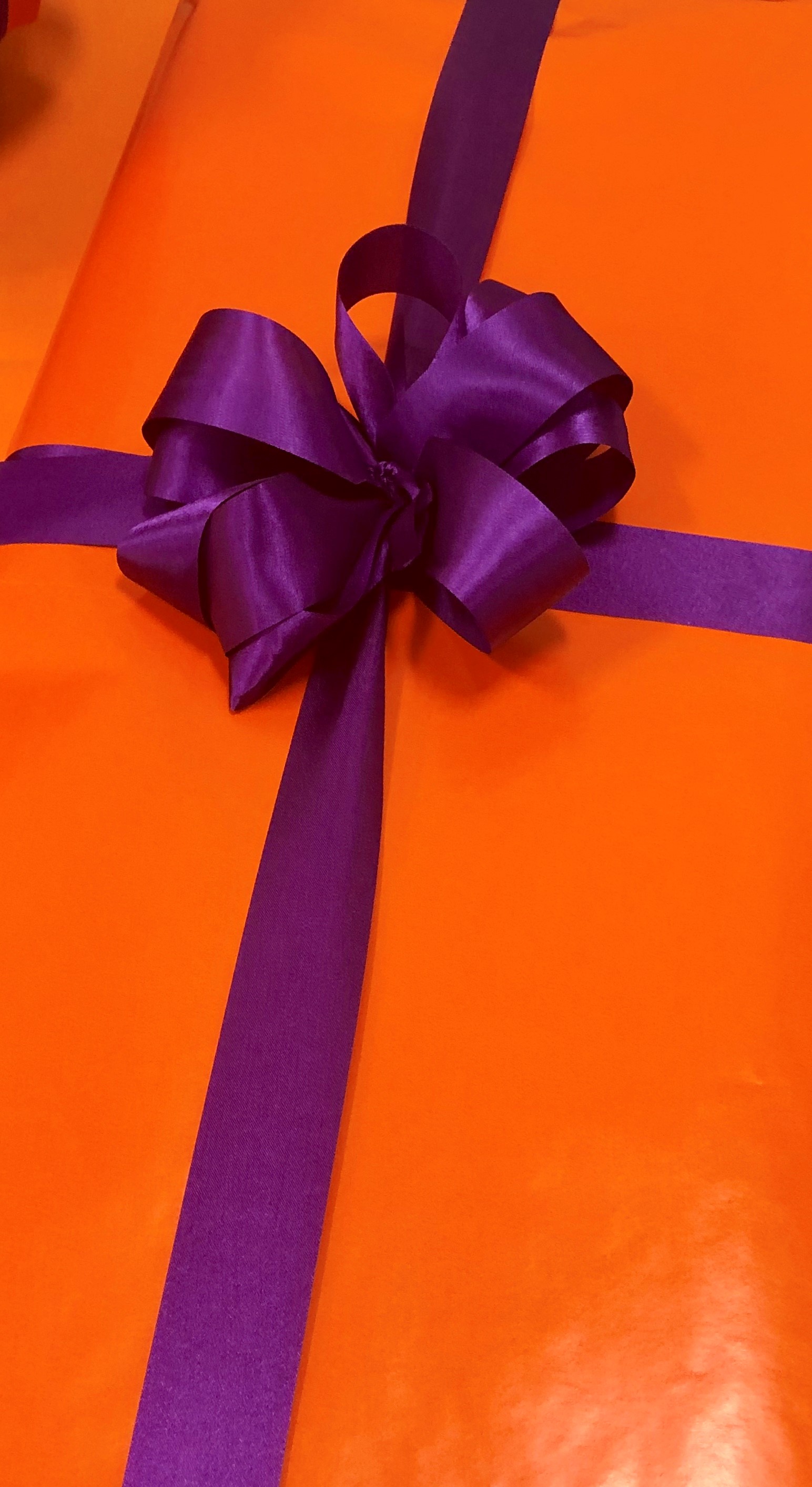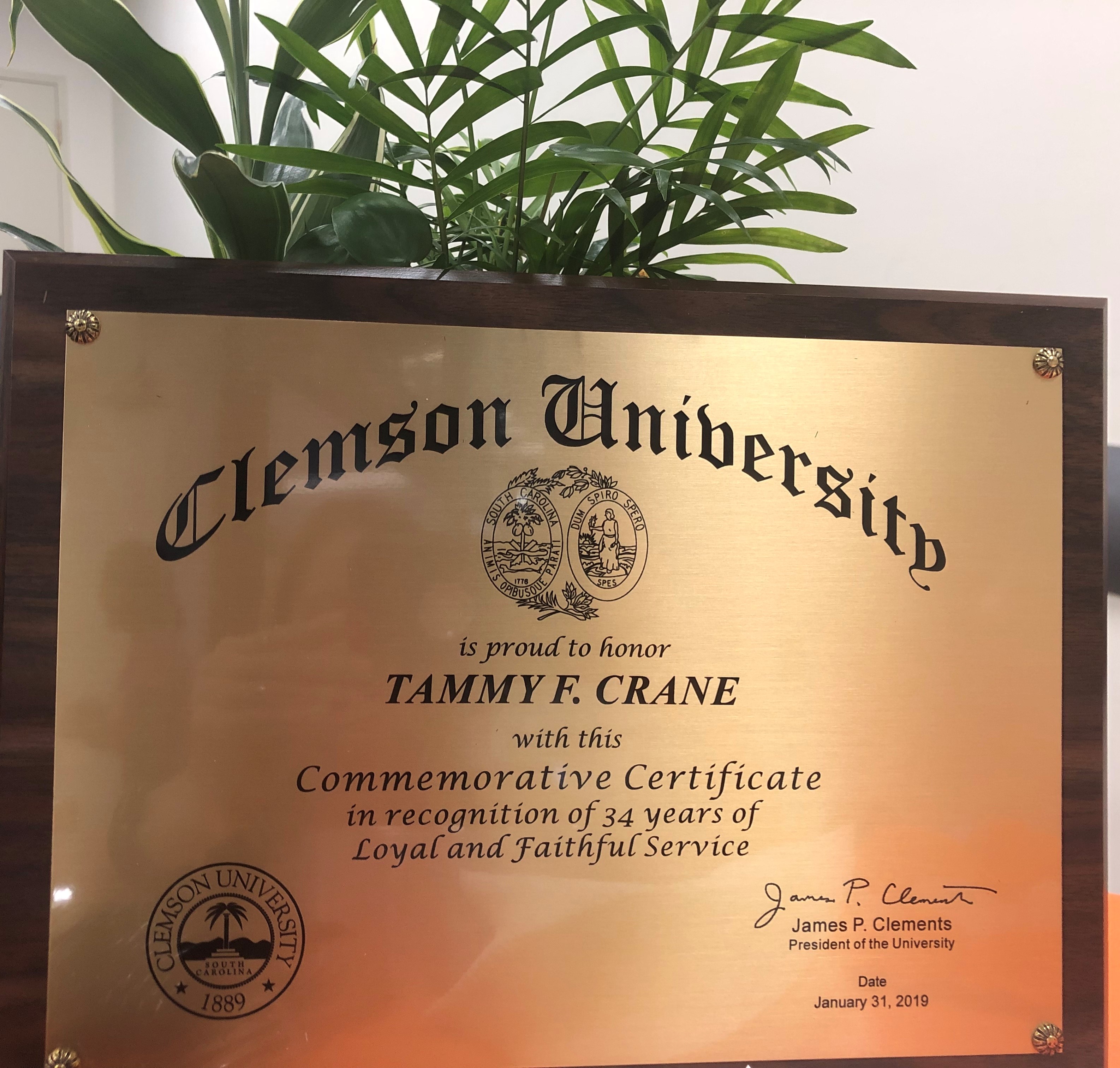 –-Kellie Marlatt
---