Tuesday, May 25th, 2021
Ever Wonder What We Do?
At the suggestion of several valued colleagues, the Press will sponsor an informational session in July (exact date TBD) to provide an overview of what university presses do, why they publish in the areas they do (and not in others), and answer any other questions that you may have about university presses in general or about yours in particular. If you have a question you'd like for us to address, please send them to John Morgenstern: jmorgen@nullclemson.edu.
Library Publishing Forum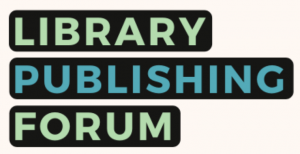 All Press staff attended the Library Publishing Forum. Informative sessions related to OA journal production, accessibility, and engagement. Of special note was a 3-session panel dedicated to the use of OA metadata to promote interoperability and expand journal discoverability.

New from Clemson
Autumn/Winter 2021 books have been added to the Press's website: www.clemson.edu/press.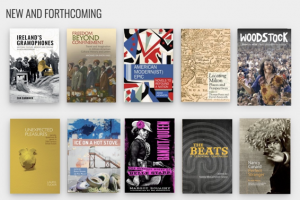 As of the Spring/Summer 2021 season, we will automatically issue paperback editions of all books on our scholarly list 3 years after initial hardcover publication. The first cache of 10 new-in-paperback editions is now available worldwide.
Journals Highlights
The Press recently acquired the International Journal of Interpreter Education. Kirstin O'Keefe is now transitioning the journal to TigerPrints and training the editorial board on the manuscript-review and tracking system. She will also take the lead on the journal's production.
The Press recently acquired The Robert Frost Review, now in its 30th volume. The journal will now benefit from professional copyediting, typesetting, and distribution. Bri Hermanson, a longtime collaborator and friend of the Press, created an original scratchboard illustration to rebrand the journal.
Drew Griffin consulted with the Directory of Open Access Journals about indexing our open-access list.
All of our literature and language journals will now be indexed in the MLA Bibliography.

Summer Interns
The Press recently welcomed a part-time student assistant, Claire Waddell, who will be working with us throughout the summer to prepare back issues of the Journal of Extension for upload to TigerPrints. Her work will significantly speed our efforts to make the journal whole on Clemson servers. If you see Claire working in our new location (Cooper 209), please welcome her to the Libraries.
Jae Dyche, a PhD student in the RCID program, is interning with the Press this summer. Her work will focus on typesetting several regional books, designing the Autumn/Winter 2021 seasonal catalog, cover designs, marketing materials to promote our books online, and author resources on topics such as clarity in writing.
AUPresses Application Update
The Press now meets (or exceeds) all requirements for membership in AUPresses, the main professional organization for university press publishing. Clemson's application for regular membership was submitted in the first week of May.
Clemson-Converse Literature Series Prize Winners Announced
Clemson publishes poetry and short-story collections in partnership with the Converse College Low Residency MFA. The majority of the books are selected through 2 competitions, each of which will run biennially: a national poetry prize for a full-length book, an award open to all poets publishing in English; and the Converse MFA series, open to students or alumni of the Converse MFA.
The 2021 Converse MFA Alumni Book Award winners were recently announced: http://bit.ly/CCprizewinners. Congratulations to the winners, Kim Shegog and Clemson's own Sarah Cooper! We look forward to publishing their award-winning books on our Spring/Summer 2022 list.
In the Media, on the Blog, and Around Campus
Alison DeSimone, author of The Power of Pastiche, was a featured guest on the newest episode of Aria Code, a program produced by The Metropolitan Opera and airing on New York Public Radio. Listen here: https://bit.ly/3wB4KzE. DeSimone's book was among the first titles acquired by Alison Mero, who has an eye for impactful music scholarship.
A recent post on our news blog thanked our design intern, recent Master's graduate Lindsay Scott, for her many contributions to our publishing program over the past 18 months: https://bit.ly/342SdZA.
The Converse College Low-Residency MFA will host a launch event for Ice on a Hot Stove, a poetry anthology hot off the presses, on May 29 at 7:30 p.m. We hope to stream some of the launch event live. In the meantime, you can hear a selection of the poems featured in the collection in a series of promotional videos that the Press published to commemorate National Poetry Month. Tyree Daye reads "Ready" here: https://bit.ly/3tX5oH8; Suzanne Cleary reads "Sausage Candle" here: https://bit.ly/2QDBf0Y; Kathleen Nalley reads "Slow Churn" here: https://ly/2QDl9Vg.
Thanks to our friends at Hub City Books, you can now stream last month's conversation between artist Dwight Rose and author Danielle Fontaine about Still Time at Pye Pond: https://bit.ly/3xODMWP.
Contributors to Modernist Objects gathered for an online launch: https://be/443PS3hjuIo.
In a new post on our news blog, Robin Field, author of Writing the Survivor, reflects on Toni Morrison's The Bluest Eye, to mark its 50th anniversary. https://bit.ly/2RNhPqC
In a new post on our news blog, Ragini Mohite, author of Modern Writers, Transnational Literatures, revisits Indian writer Rabindranath Tagore's play The Post Office and considers the pandemic's impact on education. https://bit.ly/3eQSpjU
The Press had its first in-person exhibit in more than a year, at the 2021 Research Symposium hosted by Clemson Research at the Watt Center. Thanks to those of you who dropped by to see some of our most recent publications!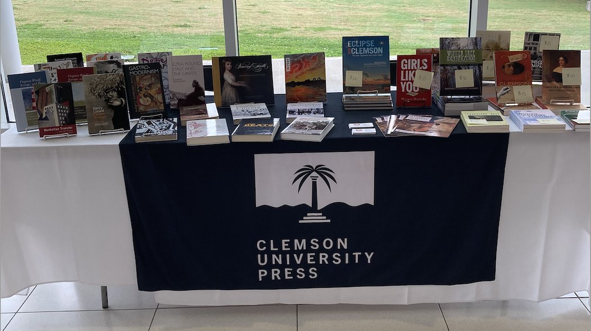 The Press also publishes interviews, readings, and brief informational videos about Clemson publications on social media. Follow us on social media to see the latest content (Facebook: @ClemsonUP; Twitter: @ClemsonUP; YouTube: Clemson UP).