The Special Collections and Archives Unit is committed to developing a world-class research collection supporting the mission of Clemson University.  Located in the Strom Thurmond Institute, the Special Collections and Archives includes the University Archives, Manuscript Collections, Rare Books, and Exhibits/Artifacts.  These collections have been developed in relation to the teaching and research activities of Clemson University and the community.    They are available to the Clemson University faculty and students, visiting scholars, and the general public.
Monday, August 25th, 2014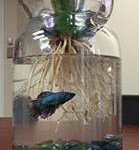 -
No we have not filled our vacant position down here in the Bunker. That's in the works. Please say hello to Thomas Green Clemson, SCL's mascot. It is very ironic that a fish with the water and a plant, 2 things bad for a special collections is the mascot. We will make sure he does not harm any of the documents!
While visiting, please don't forget to check out the exhibit, "Time to Eat," about Clemson University's food resources. Find out interesting facts about Clemson's blue cheese, attempt to create the longest banana split, and other interesting facts on the development of the college.