Visit the Digital Projects web page for more up to date instructions, guidelines, and policies
Digital Collections
Digitization Requests
Due to on-going projects, workflows, and staff time required to configure equipment before scanning, we are not able to provide on-demand scanning. We do offer various forms of scanning services and all non-ILL requests require 48 hours (two business days) advance notice. Billing rates for grant/contract funding and non-SCDL can be found here on pages 2 and 3. Equipment and scanning capabilities can be found here.
Request Options
Faculty/instructors looking for general digitization services, please fill out this form.
Library staff/faculty looking for thesis/dissertation digitization request? Go here, must be signed into StaffWeb to access.

InterLibrary Loan request workflow:

ILL will fill out a T/D Digitization Request form with the "ILL Request" option selected under reason for digitization.
ILL will then send the item to the depot via courier for digital imaging lab supervisor, who will prioritize it for chop and scanning.
If the only copy happens to be in OSS, Depot stacks manager will pull and hand to lab supervisor.
Once scanned and OCRed, lab supervisor will email ILL group email a copy of or link to the PDF.
Digi will incorporate the T/D into our Retro TD process and discard the book when done.

Regional SCDL partner interested in having their collections digitized by Clemson University, please fill out the proposal form at the bottom of this page for consideration. Upstate collections will be hosted on Furman's CONTENTdm repository, while digitization will be conducted at Clemson. Refer to the SCDL collection policy for help on determining whether proposals are more likely to be accepted.
Digitization Lab
The mission of the Digital Lab involves the conversion of analog materials, such as manuscripts and university archives found in Special Collections and Archives, to digital; the management of digitized materials and some born-digital media in cloud storage form and on the web; and some cataloging and creation of metadata for those digital objects. Most metadata creation for Clemson University materials is handled by the Metadata and Monographic Resources team (MMRT).
The lab staff coordinates with Special Collections and Archives, upstate South Carolina Digital Library partners, and grant partners for the transfer and borrowing of materials for digitization. Many different projects are going on at once in the lab, and it's the main role of the digital projects manager to guide each step in the production of all projects and coordinate between the multitude of personnel involved.
The digital projects manager and lab manager conduct strict quality control to ensure compliance with FADGI standards and best practices for handling, and image production. The main goal is to digitize materials in a way which reproduces the original object as it would look in-person. The lab employs a variety of scanners to meet or exceed strict standards. These include: a document scanner, flatbed scanners, a book scanner, and an 100MP medium-format digital-back for oversize materials.
Our students are trained in proper handling of archival materials. They also receive training from the lab manager in operating the scanners and workflow procedures required for once-and-done scanning.
Once scanned, materials are returned and digital master images are placed in cloud storage for safe keeping. Working images are generated to safely produce web accessible copies for viewing, thereby avoiding any digital degradation to the original master image.
Metadata
Grant (specifically National Park Service) and SCDL projects are described using a team of metadata students in the Digital Projects division.
Clemson University materials are described by the MRRT. The metadata librarian in MMRT keeps abreast of metadata standards from both the South Carolina Digital Library and the Digital Public Library of America. Their team populates the important information to go along with the web copy of the digital object to ensure its accessibility, discoverability, and usability through our digital library portals.
Workflows
Overall Projects Workflows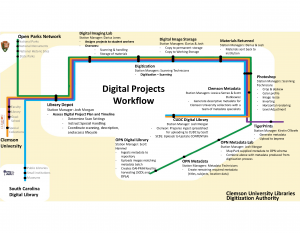 Typical Lab Workflow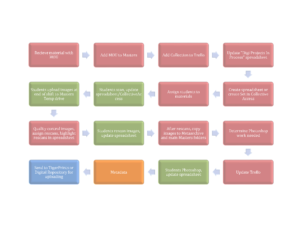 Retro Theses and Dissertations Lab Digitization Workflow